Webster in the News: Stroble on tax reform; Webster aids police chief search; Goedereis on New Year's resolutions
Dec. 15, 2017
Recent news media coverage featuring Webster University includes:
Stroble's Tax Reform Insights on KMOX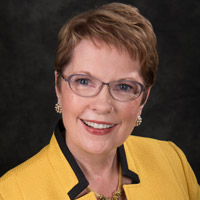 A KMOX radio story quotes Washington University's provost agreeing with what Webster University President Beth Stroble said in a previous KMOX interview concerning the impact on the region of tax bills going through Congress.
The provost, Holden Thorp, said proposed taxes make it tougher to attract the best students and conduct life-saving research.
"He agrees with Webster University President Beth Stroble, who told KMOX those provisions in the bill would reduce the region's ability to develop an educated workforce.
Read a summary of the segment at CBS Radio here.
Webster Helps Facilitate St. Louis Police Chief Search
Both Fox 2 News and KLPR 11 aired news stories about the search for a new police chief in St. Louis City, noting that Webster University is working with the City to administer examinations to the finalists at Webster's Gateway Campus, located in the Arcade Building downtown.
See the KLPR 11 story online here.
Judge Jimmy Edwards, the recently named director of public safety for the City and lead on the police chief search, is also an adjunct faculty member in the Legal Studies program at Webster.
Goedereis: Don't Call it a Resolution
Eric Goedereis, associate professor of psychology in Webster's College of Arts & Sciences, was featured in a WalletHub piece on the psychology of and approach to New Year's Resolutions. 
After first clarifying that these should be seen as "goals" rather than "resolutions," Goedereis offered:
"Force yourself to identify goals that are appropriately difficult, yet realistic. Once you've done that, you can break each goal into components that are specific and measurable. And with that, you can self-monitor and figure out if you are making the desired progress...
"One effective strategy for goal-setting is to adopt SMART criteria. The concept of SMART goals came out of the corporate world, but it has been widely applied to other areas and I think provides a useful framework for the sort of things people think about in their 'resolutions.' So, when setting goals, people should focus on making them Specific, Measurable, Achievable, and Realistic. The 'T' refers to Timeline, so this is also helpful.
"If you're doing it right and keeping yourself accountable in some way, then I'd also suggest that if you slip up, don't dwell on it…"
Read more on this topic from Goedereis in the post at WalletHub.
tags:  college of arts and sciences, employee news, extended campus, faculty, president, webster today,
News by Topic
Tag Categories
News by Topic
Tag Categories