In the News: Students in KSDK travel ban segment; Cummings, Jackson in STL American
Mar. 8, 2017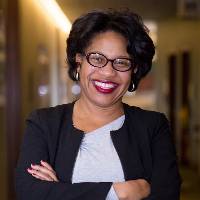 Recent news media coverage involving Webster University community members includes:
Cummings in St. Louis American
Simone Cummings' appointment as the next dean of the George Herbert Walker School of Business & Technology was included in the St. Louis American's "People on the Move" series.
Read the American's coverage here.
Read the University announcement of her appointment here.
Video: Students Interviewed by KSDK on 'Travel Ban'
NBC affiliate KSDK (Channel 5) interviewed students studying at Webster University from abroad for their reactions to the latest "travel ban" executive order by the Trump administration.
Dina Sallam, from Egypt, and Angela Meng, from China, were both on camera for interviews in the University Center on Webster's home campus in Webster Groves.
"I consider St. Louis to be my second home, after Cairo," said Sallam, as she discussed her experiences at Webster.
Read a summary of the segment and watch video here.
Jackson's Diverse Entrepreneur Incubator in American
Webster University alumna and adjunct faculty member Kristy Jackson was featured along with James Jackson in the St. Louis American for their work creating a diversity-focused incubatory to close the gap in the St. Louis start up ecosystem.
The incubator is DK Annex in St. Louis' Benton Park West neighborhood. Read about it here.
tags:  alumni, faculty, in the news, diversity and inclusion, school of business and technology, webster today,
News by Topic
Tag Categories
News by Topic
Tag Categories