In the News: Vet Center, Cyber Explorers, Cosic's 'A Murmuration'
Oct. 26, 2017
Recent news media coverage involving Webster University community members includes:
Veterans Center Dedication Coverage
The dedication of the Cpl. Thomas Palozola Veterans Center received coverage throughout St. Louis print and broadcast media.
The space for veterans on campus was rededicated on Oct. 20 to honor the late Palozola, an alumnus who spearheaded the grant application that funded it and raised awareness for student veterans on campus.
Several media outlets covered the event and the Palozola family's efforts for PTSD awareness.:
KSDK (Channel 5) ran a story Thursday night announcing the ceremony and the renaming of the center.
ABC News (Channel 30) covered the event and broadcast it twice during its Friday evening newscasts.
KMOV (Channel 4) covered the event and ran the story during their Friday evening newscasts.
St. Louis Post-Dispatch  ran a photo and a short story about the event on their website Friday night and in Saturday's paper.
St. Louis Public Radio also was at the dedication ceremony, and aired interviews with Matt Palozola and Christopher Fuller on Friday evening. They also may broadcast more on this event as part of a larger story as a Veterans Day feature in November.
Cyber Explorers Workshop for Young Girls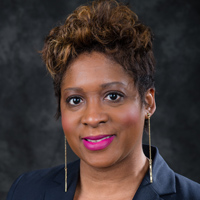 Simone Cummings, dean of the George Herbert Walker School of Business & Technology, and Quen Agnew, director of corporate relations, were both quoted in a St. Louis Public Radio story about the The Cyber Explorers Workshop for young girls held on Webster's campus last Saturday.
Read more about the event in this Webster story.
The Public Radio story aired over the weekend and is online in text and audio here: "'I think I can do it': Middle school girls learn to build a computer at Webster University."
According to the U.S. Department of Labor, less than 20 percent of the country's cybersecurity analysts are women. The field is expected to grow rapidly in the next decade.
At the workshop, Webster faculty taught 24 eighth-graders from the St. Louis area how to build and program a small computer known as a Raspberry Pi. MasterCard donated the computers for the students to take home.
"We felt like it was very important when we put this initiative together to be able to offer opportunities to schools that normally don't get a chance to participate in events of this sort," Agnew said. "So many of these [cybersecurity] jobs go unfilled by women, especially women of color."
Cummings brought up how Webster can help more students get into STEM careers:
Simone Cummings, the dean of Webster's school of business and technology, said it would be nice for the girls to enroll at Webster after high school, but that's not the reason the private college held the workshop.
Webster offers a bachelor's degree in computer science and a master's degree in cyber security.
"Whether they come to Webster, or whether they go anywhere else, we want them to consider a career in STEM [science, technology, engineering and math]," Cummings said. "As you are probably aware, women are grossly underrepresented in STEM careers, and we want them to have an opportunity to experience STEM in a fun, interactive way."
Cosic on 'St. Louis on the Air'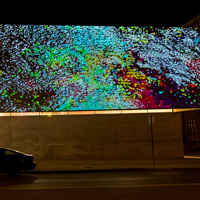 Zlatko Ćosić was interviewed about his work by Don Marsh on "St. Louis on the Air," the show on St. Louis Public Radio, 90.7 KWMU.
"Video artist Zlatko Ćosić has called St. Louis home since 1997, but it was his experiences growing up and eventually fleeing the former Yugoslavia that have most influenced his work."
Ćosić's video "A Murmuration" is currently projected nightly on the front of the Contemporary Art Museum St. Louis. 
The use of nature in "A Murmuration" and other work is influenced by Ćosić's time spent in forced labor cutting trees. "Nature was a really important element in forced labor because I was cutting trees every day and looking up at the sky and the trees and colors and just being in the forest was one way of coping with this disaster," Ćosić said.
Read or listen to the story, "Zlatko Ćosić's struggle between cultures and identity influences his art."
Ćosić is a video artist and adjunct faculty member in the Electronic and Photographic Media Department of Webster's School of Communications. His "STORY 1: SCENES 1-9" and "EVEN THE BIRDS KNOW IT" will each screen at the upcoming St. Louis International Film Festival in November. See www.cinemastlouis.org for details.
tags:  alumni, employee news, faculty, in the news, school of communications, webster today,
News by Topic
Tag Categories
News by Topic
Tag Categories