Webster University Provost Julian Schuster Named to Ingram's Icons of Education 2017
Apr. 7, 2017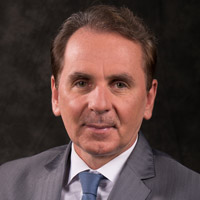 Julian Schuster, Webster University's provost, senior vice president and chief operating officer, has been named to Ingram's "Icons of Education 2017."
The 11 named to the list are recognized "for their impact as well as their commitment" to education in a variety of settings.
The magazine's accompanying profile covers Schuster's background in education as well as his impact and philosophy at Webster:
For universities, then, and especially for institutions that operate across national borders, like Webster, the imperative is meld your methods of delivery to different cultural settings with differing needs, Schuster says. "And at Webster, our mission was always to meet an unmet need."
That, he says, is what differentiates Webster, the seventh-largest non-profit university in the U.S. as measured by enrollment. "We do not approach internationalization from the imperial standpoint, that we know everything and we can go into Ghana and tell them what they need to know," he says. "We try to lend our skills, our understanding to increase the capacity of people in those countries in which we operate. We, in the meantime, learn and transform ourselves."
The result is an amalgam of students from 140 nations, operating in eight countries on four continents. And even the U.S.-born among the student body aren't educated in an American silo: "The majority are from a radius of 100 miles," Schuster says, "but they have opportunities to study in Austria, Greece, Switzerland, Ghana and China. This requires more effort on their part, but when they return, they are more culturally sensitive and better equipped to operate in the world."
Read the full profile of Schuster, along with the 10 other Icons of Education, in this feature at Ingrams. 
tags:  academics, home page, in the news, provost, webster today,
News by Topic
Tag Categories
News by Topic
Tag Categories