Connections Portal Overhaul Coming June 28
Jun. 20, 2017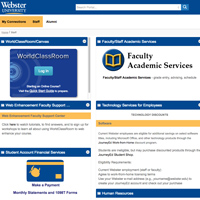 Beginning June 28, the Connections portal will have a new look. The software that runs the portal has been replaced with a more up to date application which offers more features and a cleaner interface. The website to access Connections stays the same, http://connections.webster.edu.
Additionally, we have integrated the Connections login to sync with Office 365:
Faculty and staff should already be registered for Office 365 and will use that password to login to Connections.
Students who have not yet registered their Office 365 account will need to do so prior to logging in to the new Connections portal.
Instructions for registering for Office 365 can be found here.
What's changing?
Email
While we are in the process of converting the University email over to Office 365 email access via Connections will through the Webmail application. Instructions on use of webmail can be found on the IT website.
Calendars
Calendars will no longer be a part of Connections. Individual and shared calendars will be rolled out as a part of the Office 365 email/calendar initiative beginning in July.
Groups
Groups are now known as communities within the new Connections portal. Anyone who requested their group be recreated will be able to access that content from the Communities section of the portal. Group content in the current version of Connections will be available for anyone wishing to save it until June 26, 2017.
What's New?
WorldClassRoom
We've made accessing WorldClassRoom (Canvas) from within Connections much easier, clicking on the channel will take you directly to your Canvas landing page.
Easier Navigation
Frequently accessed services are now in an easy to access sidebar.
Feedback
If you have any feedback or questions about the new Connections portal please email connectionsportal@webster.edu.
tags:  employee news, faculty, information technology, students, webster today,
News by Topic
Tag Categories
News by Topic
Tag Categories