Jim Ward Retires at the End of the Month
Dec. 8, 2017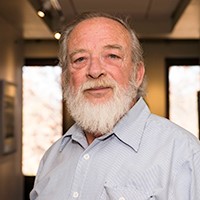 For the past 37 years and nine months, Jim Ward, project manager for Facilities Planning and Management, has brightened the halls of Webster University - literally.
Ward is retiring at the end of this month. A reception will be held for Ward from 2 p.m. to 4 p.m. in the University Center's Sunnen Lounge on Dec. 20.
"Ward knows the electrical, plumbing and mechanical systems on campus better than anyone else," said Craig Miller, director of Facilities Planning and Management. "He has overseen some of the biggest projects on campus that have made buildings such as Browning Hall and the East Academic Building a reality. His expertise and institutional knowledge on campus is going to be missed."
Ward started at Webster on March 5, 1980, in the Shipping and Receiving Department. Among his duties was to change any burned out light bulbs on campus. That led to more duties, such as changing switches and ballasts and eventually led to him being named a University electrician. With the electrical knowledge he started working on the HVAC systems in the various main campus buildings. When computers started to show up on campus and Webster started their own phone system, he installed the coaxial cabling, phone lines, and networking between the buildings.  
"Back then Facilities Operations was a really small crew, so I helped with the carpentry, changing locks, painting walls and repairing plumbing," Ward said. "Because I had knowledge of it all, I was named foreman of Facilities Operations."  
Over the years, he rose through the ranks to be named manager of Facilities Operations, a position he held for 10 years. For the past seven years, he has been in Facilities Planning and Management as a Project Manager.
As project manager, his most recent projects have been:
The installation of new West and East Chiller Plants, which supplies chilled water to all major buildings and selected the energy management system for the HVAC systems.
Overseeing the construction of the electrical substation on Garden Avenue, wiring all major buildings on campus to the new substation, and replacing all outdated electrical equipment in Webster Hall, Maria Hall and the Loretto Hilton Theatre.
Overseeing the installation of all electrical, plumbing, sprinkler, and mechanical systems in Browning Hall.
Overseeing the mapping of all public and private utilities on the Webster Groves Campus.
"The construction of the electrical substation was my favorite project," Ward said. "This project supplies the necessary power for 17 three-phase powered existing buildings plus the addition of the East Chiller Plant, expansion of the parking garage, Browning Hall, ISB and any future development on campus for many years in the future. I"t spanned over two years and required us to shut off power to multiple buildings at a time for up to 12 hours. This scheduling effort required the coordination of the building managers, departments, and occupants of the buildings. It also required the coordination of Public Safety, Facilities Operations, IT, and our contractors to make sure these outages happened with minimal interruption to normal operations or without creating safety issues. It all went pretty smoothly."
After retirement, Ward plans on working on his golf game, spending a lot of time at Lake Tanneycomo in Branson, and relaxing in his pool.
tags:  employee news, home page, provost, webster life, webster today,
News by Topic
Tag Categories
News by Topic
Tag Categories