John Buck Named Interim Associate Vice President for Student Affairs and Dean of Students
Nov. 29, 2017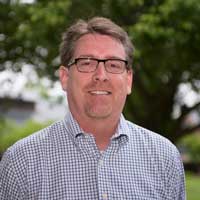 Associate Dean of Students and Director of Housing and Residential Life John Buck was named the interim associate vice president for student affairs and dean of students this week. He replaces Ted Hoef who is retiring at the end of the year.
As dean of students, Buck will supervise all student affairs units, including housing and residential life, campus dining services, student health services, student engagement, counseling services, multicultural center and international student affairs, first year experience and undergraduate persistence, student conduct, the University Center, and career planning and development. He will start in his new role Jan. 1, 2018.
"John is held in high esteem by students, faculty and staff and knows Webster University's culture and community well," said Robert Parrent, vice president for Enrollment Management & Student Affairs. "He has a wealth of experience in student affairs and will bring proven skills and talent to this role."
Buck currently manages all student housing in Webster Groves and serves as the associate dean of students. He also supervises Student Health Services, Counseling and Life Development, and is co-director of WebsterLEADS, the university's leadership certificate program.  
On the academic side of the University, he teaches as an adjunct full professor in the George Herbert Walker School of Business and Technology, the School of Education, and the College of Arts and Sciences. He has also been a member of international campus site review teams, assessing student life services and programs. Outside of the University, he frequently consults for non-profit and private sector organizations.
"John brings a unique perspective to this role, not just as an employee, but also as a member of the faculty and as a former student," said Julian Schuster, Webster University's provost, chief operating officer and senior vice president. "He fully understands what it takes to run student affairs, but also understands what it's like to be a user of those services. That gives him a greater understanding of what it takes to most effectively meet the needs of the community."
Buck holds a bachelor's in sociology from Colorado State University, a master's in Management and Leadership from Webster University, and a Doctorate in Management from Webster University. He has worked at Webster University since 2000 and is a 2014 graduate of Webster's Global Leadership Academy. Before coming to Webster, Buck worked for Saint Louis University for nearly a decade in the Division of Student Development. Since 1993, he also has worked as a leadership instructor for the Foundation for Teaching Economics, a non-profit organization in Davis, California that introduces high school students to economic ways of thinking and leadership.
"Success in implementing our strategic plan, 'Global Impact for the Next Century,' depends upon a culture that connects students to each other, to their faculty and to local and global communities," said Webster University President Elizabeth (Beth) J. Stroble. "Student Affairs leadership is a vital component of this goal and I am confident that John's experience, skills and collegial outlook will advance Webster's strategies and goals."
tags:  employee news, faculty, provost, webster life, webster today,
News by Topic
Tag Categories
News by Topic
Tag Categories