Chief Architect of the Cybersecurity Program, Tom Johnson, to Retire This Month
Dec. 12, 2017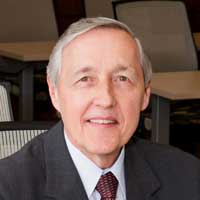 ST. LOUIS - Tom Johnson, the chief visionary behind Webster University's Cybersecurity Program, one of the fastest growing and most successful majors at Webster University, is retiring at the end of the month. But before he leaves, Johnson has one more program for the University – a degree in National Security that will launch next year.
Johnson has worked at Webster University for the past five years as an associate vice president and chief of strategic initiatives. He also served as interim dean of the George Herbert Walker School of Business & Technology for nearly 18 months. His last day at Webster will be Dec. 31.
"The impact of his amazing work will continue to mold our academic programs for years to come," said Julian Schuster, provost, senior vice president and chief operating officer at Webster University. "Tom brought contagious enthusiasm for several professional programs including cybersecurity, criminal justice, and national security to Webster that has, in many ways, redefined our institution as on the cutting edge of modern technologies and academics."
The idea for a Cybersecurity Program was sown initially through a suggestion by the U.S. Air Force, which told Webster University representatives that it was looking for a master's program that would teach its staff how to manage large cybersecurity efforts to better protect U.S. computer networks and also identify and track down emerging threats.
For Johnson, this was already a growing interest of his. With a PhD in Criminology from the University of California in Berkeley and more than three decades of working with both law enforcement and holding teaching positions in numerous universities, his research interests had evolved to forensic investigations in the digital world.
He retired as dean of that college and became a founding partner and chief operations officer for the Forensic Data Center, LLC in Lexington, Kentucky, a company that focused on computer forensics. That led to the University of Wisconsin, Parkside recruiting him as member of its executive committee for the Criminal Justice Department, where he continued to research the emerging field of Cybercrime before moving to Webster.
So when the Air Force called, Johnson knew exactly what to do. Webster's first Cybersecurity courses were offered at its Colorado Springs location, located near the U.S. Air Force Space Command Center, where the Cybersecurity program was needed the most. In 2014, the first year the program was offered, more than 80 students enrolled.
From there, the program expanded to other locations, including St. Louis, Kansas City, Orlando, Florida, and to the European campuses. Last year, the program had more than 300 students enrolled, making it among the fastest growing programs at Webster University. Besides the master's program, students can also earn a Cybersecurity certificate and, staring this year, a Cybersecurity bachelor's degree.
While the Cybersecurity program was still in its infancy, Johnson was named the interim dean of the Walker School until earlier this year, when Professor Simone Cummings was named the permanent dean.  
Johnson's most recent project has been to collaborate with colleagues in the Walker School and the College of Arts & Sciences to create a new master of arts in National Security Studies program. That program will be housed in the College but will include classes available in the Walker School. It is expected to launch next year. The program is designed to prepare students to address and work in the constantly changing environment of securing the nation from internal and external threats. The 36-credt degree examines the issues, institutions, principles and techniques used in modern national security and offers tracks in cybersecurity or international law & security.
During his career, Johnson authored seven books dealing with topics from the juvenile justice system to Cybersecurity. He wrote or co-authored 13 referred articles; holds copyright on four software programs and his chapter on "Infrastructure Warriors: A Threat to the U.S. Homeland," was published by the Strategic Studies Institute of the U.S. Army War College. In addition to lecturing at the U.S. Army War College, Carlisle Barracks, he has lectured at the Federal Law Enforcement Training Center, and numerous Universities. He appeared in both State and U.S. Federal courts as an expert witness and was a member of the Select Ad Hoc Presidential Investigative Committee and consultant to the American Academy of Forensic Sciences in the case of Sirhan B. Sirhan regarding evaluation of ballistics and physical evidence concerning the assassination of United States Senator, Robert F. Kennedy.
Johnson previously was as a member of the Electronic Crime Task Force, U.S. Secret Service- New York and San Francisco field offices, and a member of the FBI Infraguard program. He was a member of the Information Technology Working Group, and served as Chair, Task Force Group on Combating High Technology Crime for the National Institute of Justice. He was an advisor to the Judicial Council of California on the Court Technology Task Force.
tags:  employee news, faculty, provost, school of business and technology, webster today,
News by Topic
Tag Categories
News by Topic
Tag Categories