International Site Review: Leiden executive summary
Mar. 6, 2017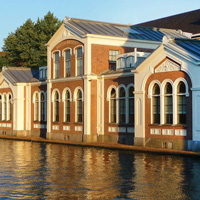 As part of a series of comprehensive campus reviews, the team for the international site review of Leiden has completed its report. An executive summary follows:
Webster University Leiden offers a critical component to the mission of Webster University. Webster Leiden strongly contributes to "transforming students for global citizenship" and supports the university mission "by educating a diverse population locally, nationally, and internationally."
As part of a series of comprehensive campus reviews, this task force was required to assess the strengths and challenges at Webster Leiden in multiple areas, including management structures, student life and services, academics and accreditation, financial structures, and enrollment management. Further, as the process to review all international campuses proceeds, common challenges and practices are being identified and will be incorporated into the strategic plan for the institution.
This task force finds that Webster University Leiden has an administration that is committed to high quality education, expanding the academic offerings for students, and providing an environment that is in-keeping with the standards of the Webster network. This task force also finds short-term, mid-range, and long-term recommendations for positively affecting each of the areas reviewed.
Management Structures
The senior administration at Webster University Leiden are committed to clear, open communication.  As with all global campuses, communication around the Webster network should continually be reviewed and enhanced.
Improve communication from St. Louis departments would help to facilitate curriculum initiatives in a timely manner.
Resolve issues with Connections which make it difficult to advise and register students at the Leiden campus
Hire an admissions director to ensure senior staff have adequate time to focus on all aspects of the organization equally. 
Student Life and Services
Student life colleagues are dedicated and engaged with the student population and seeking a truly diverse and global environment.
Align several areas of student life services and programs into a more cohesive organizational unit using clear reporting lines outside of academic affairs
Establish a Senior Student Affairs Officer, with supervisory and coordinating responsibility for the student life services unit, directly reporting to the campus director
Work with Webster student affairs colleagues to review, revise, and develop the several areas
Develop a comprehensive repair/replacement/refurbishing plan for the LLC
Establish direct links for Learning Support staff with Academic Resource Center (ARC) colleagues in St. Louis.
Academics and Accreditation
This area is strong, and favorably affects learning opportunities for students - many Leiden models should be used at other campuses.
Review academic oversight roles, creating an appropriate separation of these roles
Utilize the Webster network to improve capabilities for locating, hiring and retaining faculty
Create a new program development model similar to that recommended in the WUT review
Increase professional development opportunities for faculty
Review the resource allocations and holdings of the library to determine if they adequately meet the needs and expectations of Webster students.
Financial Structures
Financial aspects of the Leiden campus are well-managed, and no areas of concern were raised in the review process.
Determine whether reducing operating expenses, increasing revenue, or a combination of both is required
Adhere to workforce management and planning as much as possible
Support the implementation of an on-line platform for students to view their financial billing through Connections.
Enrollment Management
The overall management and operation of staff involved in enrollment management is effective.  Recruitment of new students has been relatively stable over the past five years.
Downsize recruitment team or substantially increase its targets
Coordinate recruitment activities in the USA, Middle East, and the USA
Review the composition of the European enrollment management team
Revise market penetration pricing in the newer markets in the form of merit and need-based scholarships that could attract more students
Integrate online recruitment initiatives with main-stream recruitment.
Critical Issues and Institutional Recommendations
The review of Webster Leiden, as part of the review all international campuses, has enabled the identification of common challenges and practices to be incorporated into the strategic plan for the institution.
Sharing resources: how can scarce resources be allocated and distributed most effectively?
Cooperation: what forms of point to point administrative cooperation and communication will benefit the Leiden campus and its programs?
Mobility: how can the Webster network of locations be used most effectively for students to take advantage of the diversity of sites?
Budget: can budgeted functions be shared across locations? 
Regional Alignment: can location based administration coordinate academic programs?
Program administration: can Webster share academic leadership across campuses?
Decentralization: can academic programs be administered outside Saint Louis?
Status Faculty: is there a status faculty system that can be created outside Saint Louis?
Webster University Leiden is a major asset to the Webster University network, which provides skills and experiences to transform students for global citizenship and individual excellence. By making timely institutional investments based on the recommendations outlined in this report, Webster University Leiden will continue to provide high quality academic services, and enhance its contribution to Webster University's strategic plan.
Webster community members can request access to the full report by contacting Jeanene George (jeanenegeorge96@webster.edu), administrative assistant to the Provost and Senior Vice President.
tags:  academics, employee news, faculty, provost, webster today,
News by Topic
Tag Categories
News by Topic
Tag Categories