Webster University Piano Studies Director Teaching Academy Teens from around the World
Jul. 31, 2017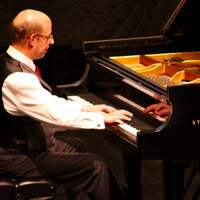 During summer breaks from teaching at a global university, Webster University music professor and director of piano studies Daniel Schene can be found teaching promising pre-college piano students from across the United States, Europe, Asia and South America.
Schene spent time earlier this month teaching such teenagers at the Indiana University Piano Academy, where he has been a faculty member since its founding in 1985.
"The Indiana University Piano Academy remains for me an important and satisfying aspect of my work as a professor of music at Webster," Schene said. "Every year it is a stimulating and engaging experience. I always return with new ideas about music, piano playing and teaching which I readily apply to my gifted Webster University piano students." 
"This summer brings weekly news of our gifted artist/professors engaging in the scholarship of application," said Jeffrey Carter, professor and chair of the Department of Music in Webster University's Leigh Gerdine College of Fine Arts. "Daniel is a fixture at the Indiana University Piano Academy, and always returns enlivened from the work he has done with gifted teenagers from around the world."
About the Department of Music
Webster University's music program provides all Webster students an opportunity to perform in students ensembles, and to study music theory in classes and performance in private lessons. Many students take music classes designed for non-majors, such as jazz, world music, and art music appreciation courses.
Nine programs are designed for music majors, including a full gamut of performance degrees, a general music major that is often combined with a non-arts major, music composition, two music education certification areas, and jazz and music technology. Many music majors opt for a time in Vienna during the junior year of study.
tags:  academics, college of fine arts, department of music, faculty, employee news, webster today,
News by Topic
Tag Categories
News by Topic
Tag Categories