Sweet Smell of Success: Carter Returns to Musical Directing at New Line
May. 31, 2017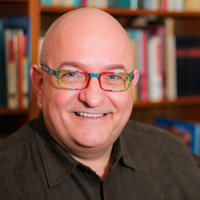 Jeffrey Carter, chair of the Department of Music in Webster University's Leigh Gerdine College of Fine Arts, returns to musical theatre direction this week. He will have company with two Webster students and a faculty member as "The Sweet Smell of Success" opens on Friday, June 2. The production runs Thursday/Friday/Saturday through June 24 at New Line Theatre.
"Sweet Smell is Marvin Hamlisch' last musical," says Carter. "The show is jazz-heavy, with some really hummable melodies covering a pretty dark core story. The 2002 musical is based on the 1957 movie of the same name, which is in turn based on a story by Ernest Lehman. The show boasts a wicked and witty book, filled with apt historical references, and some firmly drawn characters plus plenty of film noir touches."
This is Carter's fourth recent musical theatre production. Other local productions include ATOMIC: The Musical with New Line Theatre; Old Wicked Songs with New Jewish Theatre; and A Christmas Carol at the Repertory Theatre of Saint Louis, for which Carter also arranged all of the Victorian carols and wrote the underscoring musical elements.
"I view these shows as application of what we teach in the Bachelor of Music music direction program in the Department of Music," Carter says. "And I love getting to teach and lead and collaborate with other artists on stage and in the pit band. An added bonus: two current students and one contingent faculty member are joining me in the band as well."
Tickets for The Sweet Smell of Success are available through Metrotix. Performances begin at 8 p.m. at the Marcelle Theatre, 3310 Samuel Shepard Drive in Grand Center, Saint Louis.
tags:  academics, college of fine arts, employee news, news around webster, music direction for musical theatre, faculty, home page, department of music, webster life, webster today,
News by Topic
Tag Categories
News by Topic
Tag Categories