OLC First Friday Webinar: Using WCR Announcement feature to improve engagement
Feb. 23, 2017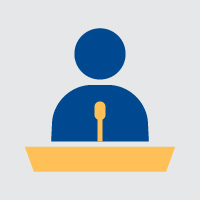 Join the Online Learning Center on Friday, March 3, at 9 a.m. for the First Friday webinar, How Using Announcements can Improve Engagement.
Instructional Designer Lori Kovarik will present the webinar to familiarize instructors with the Announcements feature, provide examples of creative ways to use Announcements in courses and share expertise. Kovarik has experience delivering business curriculum and freshman seminars in both online and live classroom formats.
Both online and on-ground faculty are welcome to attend. Sessions typically run 30 minutes with an additional 30 minutes devoted to Q&A and practice sharing. Click here to register.
Are you familiar with the Announcement feature in WorldClassRoom?
Use Announcements to:
Increase your presence as an instructor
Build rapport with your learners
Use video to create a more personalized presence
Remind your students of key course information
Review previous material to foster learning connections
And more!
tags:  faculty, webster today, online learning center, ,
News by Topic
Tag Categories
News by Topic
Tag Categories