In the News: President Stroble featured in KMOX Profiles series
Nov. 13, 2017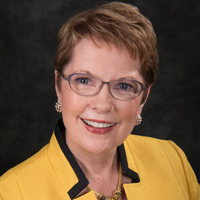 Webster University President Elizabeth (Beth) J. Stroble was featured this past weekend in KMOX 1120 AM radio's KMOX Profiles series with Carol Daniel.
The wide-ranging and personal interview goes back to childhood when teachers encouraged her and her family to aim for college, the inspiration she has experienced throughout her career, and her own reflections on the importance of mentoring others and inspiring young people's aspirations.
Stroble tells the story of the teacher who spoke with her family in sixth grade about reaching for college, and the examples her parents set as their occupations evolved.
"That's why I believe in my heart of hearts that it's important for those of us in the roles we're in to reach out to young people -- when they are very, very young -- and help them see in themselves things that they don't see."
She also shared how while pursuing her interest in history, her mother encouraged her to also get teaching licensure to expand her options after she graduated. "It wasn't until my final year in college, when I was doing student teaching, and two days in I said, 'Mom was right. This is my life. I am an educator. And there is nothing I can do that will be more satisfying than this.'"
Stroble also spoke about her decision to move to Webster.
"The fact that Webster had been founded by women spoke strongly to me. That it was an institution that still had an ethic of strong leadership by both men and women, it felt to me like the right institutional fit. The global mission, the fact that so many undergraduates were first-generation, underserved students" -- all of these made Webster's mission attractive.
Listen to the 30-minute interview at KMOX here.
tags:  home page, president, global marketing and communications, in the news, employee news, webster today,
News by Topic
Tag Categories
News by Topic
Tag Categories