The Reflective Teaching Community Discusses Expanded Opportunities for Faculty Participation
Jan. 27, 2017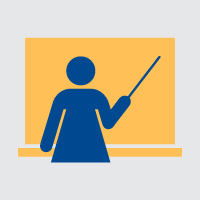 The Reflective Teaching Community (RTC) will hold its next session on Friday, Feb. 3, from 12-1 p.m. CST. All part-time and full-time faculty and academic partners are invited to join the group for discussion and a pizza lunch in the Faculty Development Center Suite, Emerson Library room 420.
For the first time, the RTC is extending the discussion beyond the Webster Groves Campus. Colleagues joining from other campuses are invited to participate via WebEx through this meeting link.
Additionally, a second session on the same topic will be held on Wednesday, Feb. 8, from 4-5 p.m. in the FDC Suite for Webster Groves colleagues who can't make it to the Feb. 3 meeting.
On Feb. 3 and Feb. 8, Carla Colletti, associate professor in the department of music, will facilitate a discussion on the topic of "Support versus Challenge," which will address faculty and student perceptions of "challenge" and "rigor" and propose strategies for effectively challenging students while supporting their engagement.
The RTC knows that appropriately challenging students tends to increase their motivation, but it may be a struggle to balance challenge with providing them the support they need to succeed; too much support doesn't let students develop autonomy, and too much challenge can lead them to check out. This can be a particular challenge in classes that are perceived as having a greater range of abilities and diversity of learners than ever. How is challenge and support balanced? How do students define "challenge" and what do they see as its benefits?
Schedule of Upcoming Meetings:
Friday, Feb. 3: Support versus Challenge (with WebEx for our worldwide colleagues)
Wednesday, Feb. 8: Support versus Challenge
Friday, Mar. 3: Safety and Discomfort in the Classroom
Friday, Apr. 14: Respecting and Challenging Authority in the Classroom and Beyond
To RSVP for any of these meetings contact Liza Dister, faculty development coordinator, at edister17@webster.edu or 314-246-7602.
tags:  employee news, faculty, webster life, webster today, faculty development center, reflective teaching community,
News by Topic
Tag Categories
News by Topic
Tag Categories