Educational Theatre Association Honors Peter Sargent
Jun. 26, 2017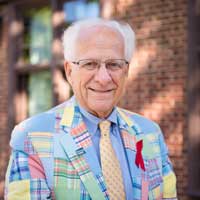 (CINCINNATI, OHIO) - Peter Sargent has been honored with the Educational Theatre Association's Founders' Award, which is presented to an individual or group who has made significant contributions to the growth and development of theatre education, research, and practice.
The award recognizes work that supports the principles and mission of the EdTA founders to promote and strengthen theatre education.
With 50 years of service at Webster University as a dean, chair, and teacher, Sargent has guided hundreds of students through the school's stellar musical theatre program. Many of those students first encountered him as "the man in plaid" at EdTA's International Thespian Festival, perhaps in one of the dozens of lighting workshops he conducted during more than three decades of service to the Association.
In presenting the award, EdTA Executive Director Julie Cohen Theobald said, "Regarding all that Peter has done for EdTA—the many technical theatre workshops; serving as audition mentor, adjudicator, EdTA board member; and as an EdTA Hall of Fame awardee—Peter personifies the mission and goals of this organization. Thank you, Peter."
Sargent's commitment to theatre and education includes support for many higher education and community organizations, including the Arts and Education Council, Shakespeare Festival St. Louis, and the United States Institute for Theatre Technology, among others. He also has a half century as resident lighting designer at St. Louis Repertory Theatre.
Sargent is also a recipient of a Special Citation for Education from USITT, and in 2014, was honored with the Missouri Arts Awards, celebrating people, organizations, and communities that have made profound and lasting contributions to the cultural and artistic climate of the state. In 2015, a newly endowed chair was created in his honor to recognize Sargent's work at Webster University and with theatre groups at both local and national levels.
The founding dean of the Leigh Gerdine College of Fine Arts and head of the lighting design and stage management programs, Sargent has been at Webster University since 1966. His Bachelor of Fine Arts is from Carnegie Institute of Technology, 1959; his Master of Fine Arts is from Yale University, 1963.
"Peter's contributions to the world of theater aren't just limited to Webster University, but have had broad positive effects throughout St. Louis, across the state and around the country," said Julian Schuster, Webster University's provost, senior vice president and chief operating officer. "Besides his continuous numerous engagement with the communities and stakeholders of the university, Peter's work with literally thousands of students over the years, many of whom have since had successful careers in live theater, television production and film, has had a tremendous impact. I offer my sincere congratulations to Peter and congratulate him on this well-deserved honor."
###
About the Educational Theatre Association
About the International Thespian Society
tags:  college of fine arts, employee news, faculty, home page, conservatory of theatre arts, webster life, webster today,
News by Topic
Tag Categories
News by Topic
Tag Categories