New School of Education Leadership Announced
Oct. 17, 2017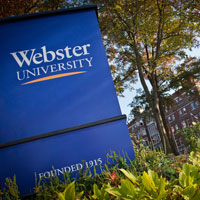 The Office of the Provost has announced new leadership for the Webster University School of Education upon the retirement of Brenda Fyfe, dean, at the end of 2017.
Thomas Cornell, associate professor and chair of the Language, Literacy, and Leadership Department, has been named interim dean of the School of Education. DJ Kaiser, associate professor and program director for the MA in Teaching English as a Second Language, has been named associate dean on an interim basis.
"Tom and DJ have long been forward-thinking leaders among our faculty in both the School of Education as well as throughout Webster," said Julian Schuster, Webster University's provost, senior vice president and chief operating officer. "In addition to their teaching background, their experience in developing programs and curriculum, securing grants and partnerships, and collaborating with school districts will serve the School well through this leadership transition."
Cornell teaches in the Language, Literacy, and Leadership department and serves as the program coordinator for the MA in Communication Arts and the MA in Multimodal Literacy for Global Impact in the School of Education. He has extensive experience in K-12 education, having worked as a classroom teacher, reading specialist, Title I Director, and Communication Arts/Library Media Services curriculum coordinator in area school districts before joining Webster University in 2008.
Cornell serves as a consultant for assisting with the writing of curriculum for schools and has received numerous grants in the area of literacy. He has presented at numerous regional and international conferences on the topics of reading, writing, comprehension strategies and student engagement and recently presented at the World Congress of Education in Dublin, Ireland. He serves as a site visitor on accreditation teams with the Council for the Association of Educator Preparation and has served on the board for the St. Louis Suburban Council of the International Reading Association. He is also a past president of the Missouri State Council of the International Reading Association.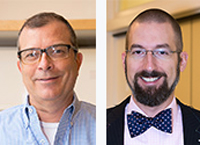 At Webster, Cornell also served on the Institutional Review Board, the Committee to Review Faculty, the Publications Board, the Graduate Admission Appeals Committee, the University Values Committee, and was selected to serve on the Military Affairs Task Force. He is a past graduate of Webster's Global Leadership Academy.
Kaiser joined Webster in 2011 teaching in and coordinating the Teaching English as a Second Language program. In 2016 he was also named director of Assessment and Accreditation for the School of Education. Kaiser serves on the Standards Professional Council for TESOL International and serves as a site visitor on accreditation teams for the Council for the Accreditation of Educator Preparation (CAEP, formerly NCATE).
Kaiser previously worked on a three-year grant to prepare K-5 math teachers in St. Louis Public Schools to work with English Language Learners (ELLs), worked on a five-year federal Department of Education (DOE) grant with the Kansas City Public Schools to lead K-12 teachers to earn ESOL certification, and most recently helped secure a five-year, $2.7 million DOE grant to offer ELL Certification to teachers in three area school districts.
Kaiser has presented on topics such as pronunciation, translation studies, English language teaching, and program development throughout the United States and in Mexico, Canada, China, Thailand, United Arab Emirates, Spain, Greece, Holland, Argentina, Uruguay, Brazil, and Ecuador. He has received two research grants to study English Language Teaching in Uruguay, a Webster faculty research grant in 2015 and a U.S. Fulbright Scholars Grant for 2016. He is a past graduate of Webster's Global Leadership Academy.
tags:  faculty, home page, provost, school of education, webster today,
News by Topic
Tag Categories
News by Topic
Tag Categories