Tom Oates, Founding Director of Ghana Campus, Media/Journalism Program, Retiring
May. 16, 2017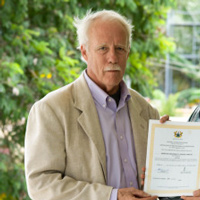 Tom Oates, the inaugural director of Webster's Ghana campus, is retiring at the end of May after serving the University for a combined nearly 15 years.
Oates first joined then-Webster College in 1972 as director of the Media Center and founding director of the media and journalism undergraduate degree program and the MA in Media Studies. After over eight years of service, Oates continued his career elsewhere in a variety of higher education academic and administrative roles, including as a tenured faculty member, an international education consultant and twice serving as a college president.
He returned to Webster in 2012 upon the establishment and opening of the campus in Accra, Ghana.
Among his many accomplishments, he considers leading efforts to establish Webster's media communications graduate program as one of his crowning achievements. "I worked with Peter Sargent [longtime dean of the Leigh Gerdine College of Fine Arts] in upgrading the acoustics in Winifred Moore Auditorium for music, voice and drama performances, and established and housed the Media Center then located on the second floor of Webster Hall."
Oates was instrumental in securing all of the necessary funds for the work, including support from the federal government, individual private gifts and significant grants from the Kresge and Rockefeller Foundations. "I was blessed to have left the program in the very capable hands of Art Silverblatt," said Oates, who credits recently retired Silverblatt for the rapid and significant growth of the communications program at Webster – eventually leading to what became the School of Communications.
"We built that program one brick at a time," he said. "I'm thrilled the University paid so much academic attention to growing the program."
Though he left Webster for decades of other pursuits before returning in 2012, he recalls leaving Webster with a profoundly impactful impression. "I was touched and inspired by the University's uniquely caring culture of putting students first, and in such a rigorous way.
"The Sisters of Loretto really took care of students and designed thoughtful mechanisms to help them succeed."
"The early '70s were a very culturally tumultuous time," he said. "I specifically remember watching Sister Barbara Ann Barbato patiently talk with an angry and upset student, perched high up in a tree, in protest of it being taken down. The tact with which she handled such a heated situation was awe inspiring."
On another occasion, he recalled working with the then executive vice president to assist two homeless teens who had wandered on to campus in search of food and shelter. "Webster supported our immediately response to the needs of those kids," he said. "I still reflect on that experience."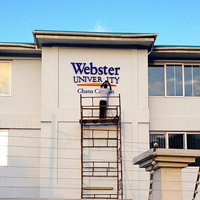 When he returned to St. Louis years later, he said he told his real estate agent he wanted to live within five minutes of the Webster Groves campus. "She said, 'Why? You don't work there. I replied, 'No, but I will. I'm not yet sure how, but I will." Later he was approached by Webster staff about the soon-to-be established Ghana campus.
The people make the University, he said. "Working for Beth Stroble, Julian Schuster, Tom Johnson, Grant Chapman and Peter Maher was a delight," he said. "They were professional and very effective in getting things done within an international context. I am grateful to have been able to work with them and so many others at Webster."
Following retirement, Oates and his wife are planning a trip to Italy where they will visit family working abroad.
tags:  employee news, faculty, global, school of communications, webster today,
News by Topic
Tag Categories
News by Topic
Tag Categories