Walker School Offers Webinars for Faculty Over Spring Break
Mar. 10, 2017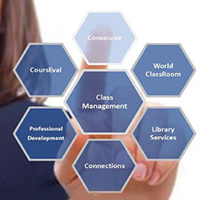 Webster Faculty are invited to check out the new Walker Week of Webinars during Spring Break, March 13-17.
This live series consists of 30-minute sessions presented by university subject matter experts on very focused topics related to teaching and class management. Many sessions are offered twice a day to provide ample opportunity for viewing.
For more information download the event flyer here or go to the Webster Events page.
(After clicking a link below, click "More Info" to learn more about the session topic.)
Spring Break Webinar Sessions:
Monday, March 13
11 a.m. - Introducing your students to Qualtrics - Justin Bitner, interim director, Institutional Effectiveness
11:30 a.m. - Keeping students engaged in a 4-hour class - Dustin Smith, assistant professor, Management Department
5 p.m. -  Keeping students engaged in a 4-hour class - Dustin Smith, assistant professor, Management Department
5:30 p.m. -  Editing your syllabus in Concourse - Samantha Davis, coordinator, Research and Technical Support
Tuesday, March 14
11 a.m. - Editing your syllabus in Concourse - Samantha Davis, coordinator, Research and Technical Support
11:30 a.m. - Incorporating library resources in your teaching - Mary Anne Erwin, librarian, Distance Learning
5 p.m. -  Using WorldClassRoom to facilitate discussions - Liza Dister, coordinator, Faculty Development Center
5:30 p.m. -  Incorporating library resources in your teaching - Mary Anne Erwin, librarian, Distance Learning
Wednesday, March 15
11 a.m. - Documenting your professional development for accreditation - DeLyle Bowen, coordinator, Assessment and Analysis
11:30 a.m. - Advanced research in your classroom - Mary Anne Erwin, librarian, Distance Learning
5 p.m. -  Documenting your professional development for accreditation - DeLyle Bowen, coordinator, Assessment and Analysis
5:30 p.m. -  Using Connections to find your class information - Samantha Davis, coordinator, Research and Technical Support
Thursday, March 16
11 a.m. - Creating assignments in WorldClassRoom - Liza Dister, coordinator, Faculty Development Center
11:30 a.m. - Introducing research in your classroom - Mary Anne Erwin, librarian, Distance Learning
5 p.m. -  Introducing research in your classroom - Mary Anne Erwin, librarian, Distance Learning
Friday, March 17
11 a.m. - Creating assignments in WorldClassRoom - Liza Dister, coordinator, Faculty Development Center 
tags:  faculty, school of business and technology, webster life, webster today,
News by Topic
Tag Categories
News by Topic
Tag Categories