Bike, Swim, Run to Wellness with 1st Annual Indoor "Try"-athlon
Jan. 25, 2017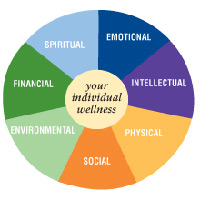 Webster Wellness has organized its first annual "Try-athlon" to be held April 17-23 in the University Pool and Fitness Center for new and veteran triathlon participants.
Part of its spring "wellness challenge" event, this is for anyone in the Webster University community interested in competing, a challenge or just for seeking new ways to move more and gain new heights.
To help prepare and engage in this event, workshops will be available for participants who want support for any of the three events (swim, bike, run). Workshop participants will get tricks and tips for training, outside resources and on-going help from our champion advisors Ryan Elliot, Myrna Homm and Julie "JP" Palmer.
Just Try: All are Welcome
We want you to emphasize TRYING (all experience levels welcomed)

We want to make it possible for you to achieve your personal wellness goals

It doesn't matter if you run the entire 2 miles or walk the entire race, but it does matter that you at least "TRY"
If you don't want to participate alone or just simply want to make it more fun: join a team (teams can be assigned, as well).
Event Distances
Swim: 400 yards
Bike: 10 miles
Run: 2 miles
Participation divisions
Individual "All in a day": individual entrants complete all three events at one time (by appointment)
Individual one week format: individual entrants complete all three events in one week
Team:  two or three individuals register as a team and complete their event(s) in one day (by appointment) or over the week
Registration
Register online between Feb. 1 and March 31:
Note: The original registration deadline of Feb. 28 has been extended to March 31.
Workshop Dates
All workshops will meet in the University Center Conference Room:
Swim - Tuesday, Feb. 7, noon
Bike - Friday, Feb. 10, noon
Run - Monday, Feb. 13, noon
Questions? Contact wellness@webster.edu.
tags:  employee news, webster life, webster wellness, human resources, webster today,
News by Topic
Tag Categories
News by Topic
Tag Categories