Resources for Maintaining Academic Integrity at Webster University
Jan. 24, 2018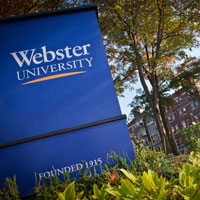 Academic work is challenging—students are expected to manage classes, demonstrate critical thinking, and be responsible for their own learning. In addition, we are expected to maintain academic integrity as a university. 
What does academic integrity mean? It means exhibiting honest behavior and taking responsibility for all of the academic work we submit. It also means giving credit to all sources and using proper documentation in a paper assignment or project. 
When we display academic integrity, we can take pride in knowing that we are a part of an academic community of students and faculty who also work hard to uphold the same values of honesty, trust, fairness and equity.
Part of maintaining academic integrity is utilizing the resources available at Webster University. We now have a website called Academic Integrity at Webster that provides resources, explains documentation styles related to academic integrity, and helps students, faculty, and staff navigate through frequently asked questions. To visit the website, go to www.webster.edu/academic-integrity.
We also have a new video on the Academic Integrity home page that features Webster faculty members, department chairs, deans, and students sharing what academic integrity means to them and to the Webster community. 
For more information on Academic Integrity at Webster, contact Carolyn I. Brown, PhD, in the Academic Resource Center at (314) 246-7668.
Do your own work. Write your own future. 
tags:  academics, faculty, academic resource center, students, webster life, webster today,
News by Topic
Tag Categories
News by Topic
Tag Categories