Book Club: 'The Economic Singularity: Artificial Intelligence and the Death of Capitalism' May 21
Apr. 30, 2018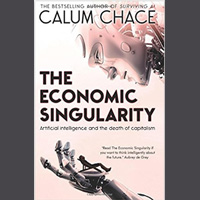 In a few decades, most humans will not be able to work for money. This is a prediction by Calum Chace, author of The Economic Singularity: Artificial Intelligence and the Death of Capitalism. If the evolution of robots and artificial intelligence truly takes over the majority of the jobs done by humans today, what will our world look like? How will our economy evolve? Could this be an evolution that benefits humans or will there be disastrous outcomes?
 
Join the Webster University Book Club in May as we read Chace's 2016 book and discuss possible answers to these questions. We will meet on May 21 at noon in the Library Conference Room. Everyone is welcome! Copies of the book are available on reserve at Webster University Library; just ask at the front desk.
 
If you want a taste of the topic before you dive into the book, check out the Financial Times Tech Tonic podcast with Chace.
tags:  employee news, webster life, webster today, library, book club,
News by Topic
Tag Categories
News by Topic
Tag Categories