Webster University Appoints Vincent C. Flewellen as Chief Diversity Officer
Oct. 2, 2018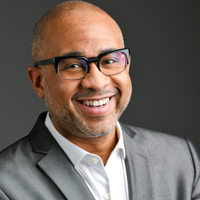 Today, Webster University's President Elizabeth (Beth) J. Stroble and Provost, Senior Vice President and Chief Operating Officer Julian Schuster appointed Vincent C. Flewellen as the new Chief Diversity Officer for the University.
For the past two years, Flewellen has served as the director of equity and inclusion at the College School of Webster Groves. The College School is a private, independent school focused on educating children from pre-kindergarten through eighth grade by using experiential learning and other techniques. Webster University and the College School are long-time partners with historic links.
In his role at Webster University, Flewellen will provide key leadership for the University's core value of advancing diversity and inclusion as part of the educational mission through the University's network of domestic and international locations.
"As Webster's next Chief Diversity Officer, I am thrilled and honored to have the opportunity to join President Stroble and Provost Schuster in identifying and pursuing opportunities for education and cultural transformation that further advances Webster University's mission and core values university wide," Flewellen said. "I am grateful for the opportunity to champion and advocate for inclusive means to create, direct and oversee the development and implementation of a diversity and inclusion plan that produces programs and initiatives in collaboration with the leadership team. I look forward to serving a diverse group of constituents including students, faculty, staff, alumni and the greater St. Louis community."
"We welcome Vincent's leadership in this important position for the University," Stroble said. "He has almost two decades of experience weaving diversity, inclusion and equity into the culture of education in the St. Louis area. We look forward to working with Vincent to advance Webster's core value of diversity and inclusion and to build on the strong foundation already established at the University."
"We believe Vincent will bring great enthusiasm to this important position," Schuster added. "As our recent national rankings show, Webster University has a long history of making an educational difference for many students of diverse backgrounds. We have great confidence that Vincent will add to that record, and advance diversity and inclusion in their most vital aspects in the Webster community."
Flewellen's Accomplishments
Before taking on his role at the College School, Flewellen served as the director of the University City Children's Center. He has taught in the Ladue School District and for the Mary Institute and St. Louis Country Day School. Also, Flewellen has served as an adjunct instructor of social work for Washington University's Brown School of Social Work for the past six years, and he served as a consultant to Washington University in 2006 and 2007. For the past 16 years, he has served as a consultant on diversity and inclusion issues for a variety of schools and organizations, including: the Kirkwood School District; the John Burroughs School; the Forsyth School; the Cochran Community Center; and FOCUS St. Louis.
Flewellen has also served as the director of development for the St. Louis non-profit Neighborhood Houses (now known as Unleashing Potential). Flewellen served as a program director for Teach for America in St. Louis and he was a coordinator for the Missouri Coalition for Lifesaving Cures.
Flewellen holds a Masters of Social Work from the Brown School of Social Work at Washington University and his BA in education is from Maryville University.
Flewellen will begin his new duties at Webster University on Oct. 15, 2018.
Webster & The College School
The College School's partnership with Webster University can be traced back to 1963 when leaders at Webster created the College School with support from a Carnegie Foundation grant. The College School was originally designed to highlight the alternative and pioneering educational methods that innovators in education at Webster were advancing by putting their ideas into direct practice. The College School eventually became independent from the University in 1978.
Webster's Core Value of Diversity & Inclusion
Since President Stroble's arrival at Webster in 2009, the University has made major strides in the area of diversity and inclusion, including the creation of the position of chief diversity officer. The signature event created by that office is the successful annual conference to discuss these themes. Last year's third annual conference was attended by hundreds and the conference has featured speakers of local, regional, and national renown. Also, Webster's leadership and the chief diversity officer have strengthened the bonds between the University and key community groups such as the Urban League and the Alliance for Interracial Dignity.
As President Stroble has said about the annual conference and how important diversity and inclusion are at the core of the University's efforts: "From Webster's inception, we have been an institution that opened worlds that were previously closed to students. Our student body has become increasingly diverse in every way. We are a microcosm of the world across the Webster campus network and within each campus. These conversations are critical; only we can make a difference in our community, and we must."
Other diversity initiatives at Webster University since 2009 have included: the creation of a campus in Ghana; five times more funding to increase scholarships for study abroad students; double the number of endowed scholarship funds to support diverse populations; increased the number of endowed scholarship funds to recruit international students; and a partnership with the African Renaissance and Diaspora Network (ARDN) to raise awareness about HIV-AIDS and provide education about prevention programs. The University has also created the Transitions and Academic Prep (TAP) program to aid freshmen and transfer students who are the first in their families to attend college. This year, in its annual college rankings, U.S. News & World Report rated Webster as having one of the best study abroad programs nationally. Those rankings also rated Webster as one of the best regional universities for veterans.
tags:  global, home page, president, provost, webster life, diversity and inclusion, webster today,
News by Topic
Tag Categories
News by Topic
Tag Categories