Webster's Faculty Development Center Launches Creativity and Evidence Learning Community
Oct. 11, 2018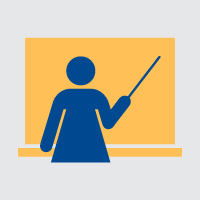 The Faculty Development Center welcomes all part-time and full-time faculty and academic partners to save the date for the launch of its Creativity and Evidence Learning Community's monthly meetings.
This learning community focuses on using digital tools to promote creativity while teaching skills such as critical thinking, digital literacy, and effective communication.
The first meeting will be held Thursday, Oct. 18, 3-4 p.m. in the Faculty Development Center (Emerson Library 420). This session will be facilitated by Erik Palmore, director of the Faculty Development Center, and Rea Bedalli, a student double-majoring in Psychology and Advertising & Marketing Communications. The facilitators will discuss how faculty and staff can help students reflect on and communicate transformative experiences—such as study abroad, undergraduate research, and internship experiences—in order to showcase their learning for peers, teachers, and employers.
Some of the other pending topics the community will cover include evaluating evidence and digital literacy, and using Adobe tools in your classroom.
2018-19 Schedule of Meetings
All meetings will be held on Thursdays from 3-4 p.m. in the FDC Suite (Library 420)
Oct. 18, Nov. 15, Jan. 24, Feb. 21, Mar. 28, and Apr. 25
For more information, check out the group's webpage.
To RSVP for meetings, contact Liza Dister, Faculty Development Coordinator, at edister17@webster.edu.
tags:  employee news, faculty, webster today, faculty development center,
News by Topic
Tag Categories
News by Topic
Tag Categories