Creativity and Evidence Faculty Learning Community Meets March 29
Mar. 26, 2018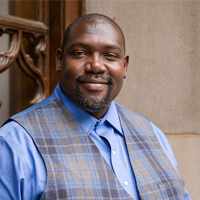 The next meeting of the Creativity and Evidence Learning Community will be held Thursday, Mar. 29, 3-4 p.m. in the Faculty Development Center Suite (Library, room 420).
All part-time and full-time faculty and academic partners are invited to join the group's monthly meetings, which focus on using digital tools to promote creativity while teaching skills such as critical thinking, digital literacy, and effective communication.
At our upcoming meeting, Basiyr Rodney, associate professor in the Department of Teacher Education, will facilitate our discussion. If you're interested in topics such as evaluating evidence and digital literacy, or if you're interested in how you might use Adobe tools in your classroom, please consider join our monthly meetings.
For more information, check out the group's webpage. Please RSVP to Liza Dister, Faculty Development Coordinator, at edister17@webster.edu.
Spring 2018 Schedule of Meetings
All meetings are on Thursdays, 3-4 p.m., Faculty Development Center Suite (Library, room 420):
tags:  academics, faculty, faculty development center, webster today,
News by Topic
Tag Categories
News by Topic
Tag Categories