Director of Global Recruitment Moves to Webster Groves Campus
Feb. 2, 2018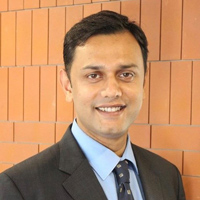 Webster University's director of global recruitment, Samrat Ray Chaudhuri, is now located on our Webster Groves campus. Chaudhuri has worked at Webster Thailand for nine years, leading the recruitment team there.
"Samrat's many years of experience in international recruitment has been extremely beneficial to our Thailand campus," said Peter Maher, associate vice president of international campuses and initiatives.
Last year Webster began a collaboration with Global University Systems (GUS), a U.K.-based recruitment company, to support efforts in recruiting international students to Webster's U.S. locations. Over the past year, Chaudhuri has been Webster's key liaison with GUS, and has enabled substantial progress in the partnership. 
Working from Thailand, Chaudhuri has been addressing many of the challenges in establishing the collaboration. But the move to St. Louis will enable him to work much closer with admissions staff at the main campus, to help strategize and implement a smooth admissions process for international students. 
Chaudhuri will also help support the marketing efforts of GUS, ensuring that they are fully aligned with Webster's regulations in collaboration with Global Marketing & Communications, and will support the coordination of other units involved with the GUS partnership.
In addition to supporting with the GUS initiative, Chaudhuri will continue to provide tactical and operational support to the international campuses for a variety of recruitment initiatives. 
His office is Loretto Hall 152C, and his extension is 4202. He will be available for discussions on any issues that may arise in relation to international recruitment. 
tags:  employee news, global, webster today,
News by Topic
Tag Categories
News by Topic
Tag Categories