Additional Resources for Discussions, Ideas on Future of Higher Education
Feb. 20, 2018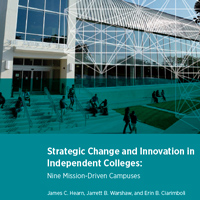 The on-going conversations and working group efforts to find creative yet disciplined solutions for current financial challenges are part of the nationwide discussion on shifts in higher education. They are not unique to Webster University. Significant market forces, demographic shifts and public policy trends are affecting higher education institutions throughout the United States.
As these trends have sharpened over the last few years, Webster University has been collaborating with regional and national peer institutions, outside experts, and administrators, faculty and staff to raise awareness of these issues and share best practices and ideas for solutions.
Links to two additional reports, discussed below, have been added to the resource page for Webster community members weighing these issues and contributing to ideas for solutions.
As a reminder, these resources are being shared so all members of the Webster University community can review them to better understand the current environment and inform discussions and questions for members of the steering committee that is delving into them as they apply to Webster.
Regional Efforts
On the regional level, Webster University is part of the "St. Louis Regional Educational Commitment" initiated by the St. Louis Chamber and the Regional Higher Education Council, which is made up of leaders from the region's public and private two- and four-year schools. That group, which Webster President Elizabeth (Beth) J. Stroble leads as a co-chair and which Webster faculty and staff also participate in, compiled the St. Louis Regional Educational Commitment report last spring and assembled a coalition of regional leaders committed to the goal of catapulting the St. Louis region into the Top 10 most-educated metropolitan regions by 2025.
This goal has the endorsement of the St. Louis Regional Chamber, the East-West Gateway Council of Governments, the Urban League of Metropolitan St. Louis, and the Federal Reserve Bank of St. Louis, among other regional public and corporate leaders. But more importantly, the effort and the report are part of on-going efforts to understand and address factors that challenge accessibility to higher education and its impact on the region's vitality.
Webster's efforts to expand access to education for underrepresented populations in the region has been recognized and lauded, most recently in a St. Louis Regional Chamber report last May.
National Efforts
On the national level, Webster participates with peer institutions through several organizations, including the 700-member Council of Independent Colleges (CIC) in its on-going "Project on the Future of Independent Higher Education," which is led by a committee of presidents of 22 colleges and universities.
As part of this project, last spring Webster was host to one of the CIC's eight "Securing America's Future: The Power of a Liberal Arts Education" workshops, which brought teams of faculty and staff from universities throughout the midwest to Webster's home campus to share practices from each other's respective institutions, and also to share data that can dispel myths and assumptions about the liberal arts. Each of the eight CIC regional workshops involve dozens of institutions from the region where they are held.
A team of Webster faculty and staff participated in the March workshop, analyzing data about independent colleges and their impact – and how to spread that message to a wider audience. (See an overview and video with participants in this Webster Today story.)
Strategic Change and Innovation in Independent Colleges
One recent report from the "Project on the Future of Independent Higher Education" is of particular interest to Webster community members considering these issues. The April 2016 report, "Strategic Change and Innovation in Independent Colleges: Nine Mission-Driven Campuses," is a case study of nine mission-driven institutions that "challenges the dominant narrative that independent colleges and universities are stuck with outdated business models and unable to adapt to present market and fiscal challenges." 
The report notes several common factors these institutions have shared, which call to mind efforts Webster has been undertaking in adapting to the current environment. From the executive summary, these institutions share:
1. A Bias for Action.  Each of the case-study institutions was selected for analysis based on its adoption of numerous innovations in recent years, relative to peer institutions.
2. A Drive to Connect Locally, Regionally, and Beyond: Each of the colleges assertively engaged with its external stakeholders, its campus constituencies, its supporters, and its current and potential markets.
3. Realistic Self-Assessment and Adaptation. In choosing innovations, each institution paid close attention to what was feasible and likely to prove successful.
4. Structuring for Innovation. Leaders at each of the colleges thoughtfully created organizational processes and forms fitting the particular changes being pursued.
5. Assertive Leadership within Shared Governance Traditions. Leaders of the institutions regularly cited their efforts to tie chosen innovations to their colleges' historical roots and traditions.
6. Alignment of Mission and Innovation.  Leaders uniformly emphasized the importance of preserving or expanding their colleges' missions, rather than forsaking or compromising those missions.
Steering Committee
As a reminder, the steering committee investigating these higher education challenges as they pertain to Webster has a three-fold charge:
recommend immediate and necessary budget adjustments for this fiscal year to address short-term constraints;
identify inefficiencies in our systems as ways to build a strong academic and administrative base for our future; and
review innovative ideas to construct a new academic business model which will continue to strengthen and diversify revenue streams for the University.
Each of the working groups within the committee is considering all of these charges (fiscal, operational, academic) while focusing on Webster's academic mission and the areas outlined below.
Steering Committee
Beth Stroble
Julian Schuster
Co-Chairs
Nancy Hellerud, Ana Karaman, Betsy Schmutz 
Committee Members
Gary Renz 
Maggie Dankert 
Dani MacCartney 
Remy Cross 
Aaron AuBuchon
Bill Lynch 
Johannes Pollak
Justin Bitner
Merry Graf 
Trezette Dixon 
Maggie Laur 
Rita Smith 
Michael Cottam 
Eric Rothenbuhler 
Simone Cummings 
Tony Wallner 
Tom Cornell 
Group 1 - Cost Management: Administrative and Operational Costs
Hellerud, Karaman, Renz, Dankert, Smith, Cottam, Wallner, Lynch, Graf, Dixon, Pollak
Group 2 - Operational and Academic Efficiencies: Instructional Costs and Resource Allocations
Hellerud, Karaman, Schmutz, Cross, MacCartney, Pollak, Rothenbuhler, Smith, Laur, Bitner
Group 3 - New Revenue Sources: Academic Programs, Grant Activity, Fundraising
Hellerud, Karaman, Schmutz, Renz, Cross, Laur, AuBuchon, Cummings, Rothenbuhler, Wallner, Cottam, Cornell
tags:  academics, employee news, faculty, president, provost, strategic plan, webster today,
News by Topic
Tag Categories
News by Topic
Tag Categories