Webster in the News: Roach at American Council on Education on role of chief diversity officer
Jan. 10, 2018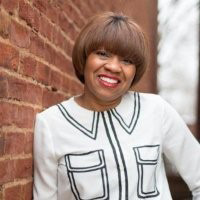 Nicole Roach's column on the role of a chief diversity officer, "Stop Counting and Start Courting," is the cover story in this month's newsletter of the American Council on Education (ACE). The newsletter goes to thousands of administrative officers and employees in higher education in the United States.
Roach has been the associate vice president for Diversity and Inclusion and senior director for Community Engagement since 2013.
In the column, she recounts lessons and challenges in her four-plus years in the role, and offers tips for her peers in higher education on how to build inclusion and collaboration in a diverse university community.
"You have to build relationships with these students and their communities, which includes individuals and groups both inside and outside the walls of the institution," Roach writes.
"All too often this challenge is addressed as if we are talking about casting a net, i.e. trying to capture specific numbers of similar-looking people. But we're talking about human beings, each of whom are unique. Each person has their own likes and dislikes, their own specific needs, and their own views of the world around them. Yet academic institutions tend to categorize individuals into neat statistical packages that can easily be reported to the federal government in our IPEDS data."
Reflecting on her time in this role, Roach writes, "I remind others that the work of diversity and inclusion is not something we arrive at but a continuous journey which comes through building relationships. We're so data driven, wanting to count and measure everything. This is not the proper formula. It's the development of relationships that make the difference."
Read the full column at Higher Education Today, the blog of ACE.
tags:  academics, employee news, global, home page, in the news, webster life, webster today,
News by Topic
Tag Categories
News by Topic
Tag Categories