Excellence in Teaching: 2018 Kemper Award Winners Finlayson, Preuss, Flack, Garcia
May. 15, 2018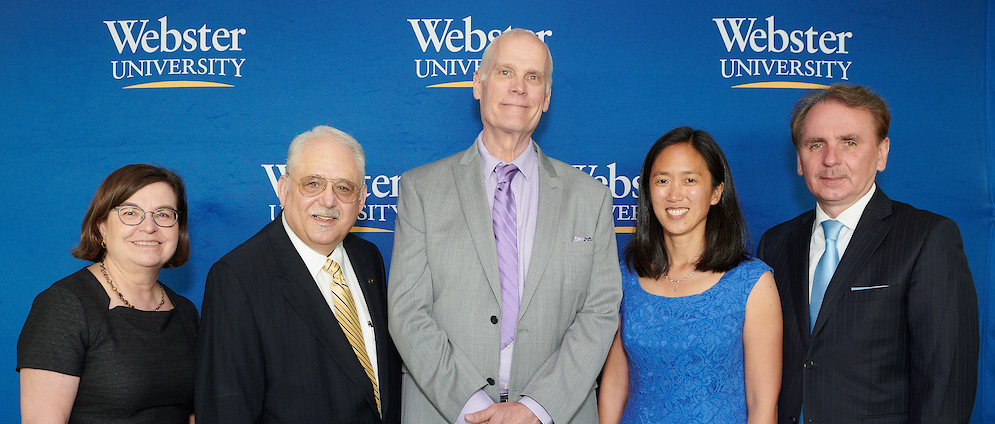 One of Webster University's traditions before the annual commencement is to recognize five faculty members with Webster's most prestigious faculty awards, the William T. Kemper Award for Excellence in Teaching and the Wilma and Roswell Messing, Jr. Faculty Award. 
All five recipients were honored at the annual commencement dinner and on other occasions throughout the weekend.
Kemper Award for Excellence in Teaching
The Kemper Award is awarded each year to two full-time and two part-time faculty members at Webster University who demonstrate teaching at its finest. Nominated and supported by students and colleagues, they are selected by a committee of their peers for their outstanding teaching. The award is funded by the William T. Kemper Foundation.
This year's recipients are:
Mary Preuss, associate professor and chair of Biological Sciences
Doug Finlayson, professor in Webster's Conservatory of Theater Arts, head of Directing
Eric Flack, adjunct faculty member in the School of Education's Multidisciplinary Studies Department
Henry Garcia, adjunct faculty member in the George Herbert Walker School of Business & Technology's Procurement and Acquisitions program at Lackland Air Force Base in Texas
Doug Finlayson
Finlayson describes his work as helping students learn to express themselves in collaboration with actors and designers, and create vivid theatrical experiences that deepen our understanding of the human condition. He himself is renowned for creating vivid experiences in the classroom. According to his students, his skills as a storyteller make lessons both "immediate" and "relevant"; they help to ensure that important "technical knowledge is deeply engrained because it is tied to funny anecdotes and heartbreaking stories."
Finlayson is known to encourage students to take on more and reach further than they think they can in all aspects of their creative lives. This encouragement has, in the words of one student, "paved the way for how I approach uncertainty and mitigate the risk in future creative decisions."
Mary Preuss
Preuss' statement of teaching philosophy is that that there is no 'one size fits all' approach when it comes to teaching and shares with the reader how she wrestles with the question of how to provide just the right environment to "...make each student feel included, enabled and empowered." From all accounts, her efforts are a genuine success.
This statement from a student is emblematic: "She understands how to balance toughness with handholding. She can tell when a student needs help and when they need to fumble around a bit to get the answer." The best teacher/mentors maintain a focus on the larger context for students and Preuss' exuberant encouragement of undergraduate research demonstrates that.
Eric Flack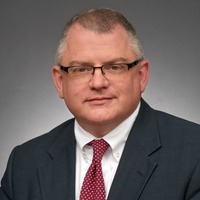 Flack attributes his success in the classroom to the many wonderful teachers he had and the high expectations they maintained and which he internalized. He believes passionately in his role equipping his students "to evaluate content, question its validity and determine how to assemble accurate understanding from a mosaic of information."
Among his core tenets is that the deepest understanding is achievable only through a collaborative process, through challenging and being challenged to explain our assumptions. This belief leads him to model cooperative learning strategies that his students put to work in their own classrooms.
Henry Garcia
Garcia's statement of philosophy makes a point to recognize the value proposition for graduate education, specifically what it means to teach adult learners. He strives to devise a learning experience for his students that demonstrates the relevance of his subject matter and then shows learners how to guide themselves through the information offered.
Students laud him for his interesting lectures and for his willingness to work with them after they graduate to help them advance in their careers.  
Wilma and Roswell Messing Jr. Faculty Award
Jeffrey Carter, professor and chair in the Department of Music in the Leigh Gerdine College of Fine Arts, was the recipient of the Wilma and Roswell Messing Jr. Faculty Award.
Read about his proposal to study and enhance the music curriculum in Vienna here.
tags:  academics, employee news, faculty, webster life, home page, webster today,
News by Topic
Tag Categories
News by Topic
Tag Categories