Professor Portnoy Selected for Regional Arts Fellowship
Mar. 13, 2018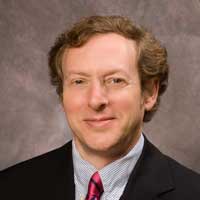 ST. LOUIS - Kim Portnoy, associate professor in the Department of Music, was one of 10 artists in the St. Louis region selected to receive a $20,000 fellowship from the Regional Arts Commission of St. Louis. The award was announced late last month.
The award is part of the five-year-old Artist Fellowship program and is designed is to allow each artist to further develop their career.
"I am honored to be one of the recipients of the Regional Arts Council Artist Fellowships," Portnoy said. "This award will afford me opportunities to dream big, create new work and help bring that work to audiences in St. Louis and beyond through performances and recordings."
Portnoy, the director of Composition Studies, teaches classes in jazz theory, jazz arranging, composition, and orchestration.
He is recognized as a versatile composer whose original music has been featured at the International Tuba Euphonium Association Conference, Guitar Foundation of America International Convention & Competition, Choral Music Experience and other national and international institutes and conferences.
He has been commissioned by such diverse organizations as the United States Air Force Band of Mid-America, the St. Louis Children's Choir, the Sheldon Arts Foundation and the St. Louis Low Brass Collective.  Portnoy's works have been recorded by St. Louis Symphony bass trombonist Gerry Pagano, the United States Air Force Band of Mid-America, and Max Jazz artist Christine Hitt.  
A new recording of Portnoy's Chamber music will feature performances by the Trombones of the St. Louis Symphony, the Arianna String Quartet and others.
This recording made possible with generous support from private donors and a Webster Faculty Research Grant is scheduled for release in 2018.
Portnoy has recorded three previous albums as a performer and composer:
"Wash Away the Dust of Everyday Life" featuring works for jazz orchestra;
"Great Day" with bassist Ric Vice and drummer Clarence Newell and
"Most This Amazing Day", jazz settings of the poetry of e.e. cummings.
 As a jazz pianist, Portnoy has performed in clubs and concert halls and has appeared with vocalists Erin Bode and Roseanna Vitro, and St. Louis Symphony concertmaster David Halen.
The Regional Arts Commission of St. Louis created the Artist Fellowship after a survey in 2012 determined that one of the most pressing needs for regional artists is to receive financial support in order to pursue their art form and further their artistic careers. The Regional Arts Commission has committed to providing a financial investment in the form of artist fellowships and artist support grants that are awarded annually to St. Louis area artists.
The recipients, representing the disciplines of visual arts, theater, music, literature, craft, media arts, and design were selected from among 176 applicants after being reviewed by 26 expert readers, a community advisory committee, and RAC Commissioners.
Ellie Balk – Visual
Lamar Harris – Music
James Ibur – Craft and Traditional
Kahlil Irving – Craft and Traditional
Edward McPherson – Literature
De Nichols – Design
Justin Reed – Literature
Jacqueline Thompson – Theatre
Brett Williams – Media
tags:  college of fine arts, employee news, faculty, department of music, home page, webster today,
News by Topic
Tag Categories
News by Topic
Tag Categories