Realignment of Media Center from IT to School of Communications
Dec. 19, 2018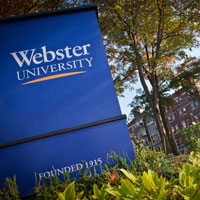 The Office of the Provost has announced that effective the beginning of 2019, personnel and budget responsibility for the Media Center will move from Information Technology to the School of Communications.
Located in Sverdrup room 128 and directed by Marty Martin, the Media Center manages inventory, supplies, maintenance, checkout, and repair of media equipment, as well as labs and studios for the School of Communications. This reorganization will better align responsibilities with goal-setting and learning outcomes, allowing improved efficiency, clarity, and focus on the teaching mission.
"I am looking forward to working more closely with our Media Center colleagues in serving our students, faculty, and teaching activities; we expect this reorganization will benefit everyone," said Eric Rothenbuhler, dean of the School of Communications. "I extend our thanks to CIO Margie Muthukumaru and the rest of the IT staff for everything they do to support the School."
In addition to serving the School of Communications, the Media Center will continue to provide its current services for the School of Education, the Department of Art, Design, and Art History in the Leigh Gerdine College of Fine Arts, and the pool of equipment available for checkout by the rest of the campus community.
The Media Center was formerly a department under IT Media Services, also including AV Event Support and Classroom Technologies Support. As a part of this reorganization, those latter two units will now be included under IT User Support Services, and the Media Services moniker will be retired.
Members of the community seeking AV support for events, teleconferencing, or classroom technologies should use the work order system through the IT Service Desk.
Media Center functions and activities will continue as before, simply under this new, clarified organizational structure.
tags:  academics, employee news, faculty, provost, students, media center, school of communications, webster today,
News by Topic
Tag Categories
News by Topic
Tag Categories