Ralph Olliges Elected Chair of Graduate Department of Education
May. 1, 2018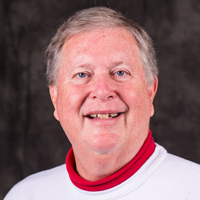 Ralph Olliges, professor in Educational Technology, has been elected chair for the Graduate Department of Education in the Webster University School of Education.
Olliges, a former Faculty Senate President, will lead the merged two graduate departments: Language, Literacy, and Leadership and Multidisciplinary Studies. He is in his seventeenth year at Webster University.
He has developed and taught online courses during his years at Webster University. He has revised the Master of Educational Technology (M.E.T.) degree and has created several certificates while at Webster. The first certificate that he created was the Online Teaching and Learning Certificate that has been a workhorse for many years. Many students in Business and Human Resources add this Webster certificate to their credentials to give them more marketable skills. He next developed a Mobile Technology in Education Certificate as well as the two new certificates Robotics for STEM Educators Certificate and STEM Leadership Certificate. Finally, he created the Educational Specialist in Technology Leadership (Ed.S.) degree.
Among his goals for the Graduate Department of Education is to strengthen our current certificates and degrees. He is working hard to attract new students to the existing programs. He is trying to form a cohesive department that will be a driving force for learning both in the St Louis area as well as online. His vision for this new graduate department is to integrate advanced information communication and technologies in all aspects of teaching and learning and to actively seek out partnerships with industry in the community.
Olliges holds a Bachelor of Arts in Mathematics, a Master of Arts in Mathematics, a Master of Business Administration, and a Doctor of Philosophy in Education with a Computer Software Emphasis from Saint Louis University.
Olliges has regularly taught a First Year Seminar on Global Gardens and Tea and a Keystone Seminar on Social Movements and Technology. In fall 2018, he is developing a new First Year Seminar entitled That Grand Old Game (on baseball) due to his fondness for the Baseball Cardinals. For the graduate students in education he teaches Instructional Design and Web Authoring and Design courses.
He belongs to several plant societies: The Henry Shaw Cactus and Succulent Society, The Carnivorous Plant Society, and the Gateway West Gesneriad Society, and Missouri African Violet Society. He has won several blue ribbons for his educational posters on plant topics as well as his plant showings. He has won Best in Show at the Gesneriad Society in 2015 and Best Trailer in Show at the African Violet Show in 2018.
He has won several times the decorative sweepstakes at the Cactus and Succulent Shows. Olliges has been a long-time member of several professional organizations such as International Society for Technology in Education (ISTE), National Council of Teachers of Mathematics (NCTM), and Society of the Philosophy and History of Education (SOPHE). Currently, he is the Web-master for the SOPHE web site and is the President-elect of SOPHE. He will deliver the Presidential Address in Fall 2019.
tags:  academics, employee news, faculty, school of education, webster today,
News by Topic
Tag Categories
News by Topic
Tag Categories