School of Education TESL Faculty Candidates
Jul. 9, 2018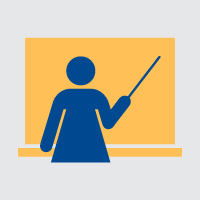 The School of Education will host two candidates to join the TESL program faculty this week on the Webster Groves campus. Community members are invited to meet them and see teaching demos they present.
First Candidate Visit: Wednesday, July 11
The first candidate will present a teaching demo on Wednesday, July 11, at 11 a.m. in East Academic Building room 140.
This candidate has a PhD in Curriculum and Instruction from Florida State University and specialized in Foreign and Second Language Education in Florida State University's School of Teacher Education. The candidate's research has focused on Directed Motivational Currents (Dörnyei, 2015) in language acquisition. This candidate has more than 15 years of teaching experience between the United States and Iran, including EFL instruction in elementary schools, ESL adult instruction at the university level, and TESL courses for both pre-service and in-service teachers seeking TESOL certification.
Second Candidate Visit: Thursday, July 12
The second candidate has a PhD in Second Language Acquisition and Teaching, University of Arizona, and is currently a full-time faculty member elsewhere teaching ESL composition as well as TESOL courses in Second Language Acquisition, Curriculum Design, and Global Englishes to both pre-service and in-service teachers. This candidate has presented and published over the past decade on the topics of genre analysis and second language writing, with research  centered on the documentation of differentiated language use by K-12 and adult ESL learners and its relation to individualized interactions with diverse linguistic, educational, and cultural discourses.
This candidate's teaching experience includes K-12 ESL learners, community college students, and graduate students. In addition to more than five years of university-level instruction in English composition and TESOL courses, this candidate has served as a Korean language instructor in Arizona and a licensed middle school English teacher in Korea.
The second candidate's teaching demo will be presented on Thursday, July 12, at 11 a.m. in East Academic Building room 140.
tags:  academics, employee news, faculty, school of education, webster today,
News by Topic
Tag Categories
News by Topic
Tag Categories