President, Provost Host Discussion Forums with Faculty, Staff to Build on Ideas for Strengthening Webster
May. 1, 2018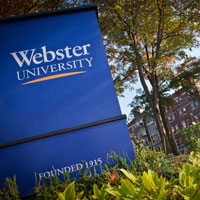 Webster University President Beth Stroble and Provost Julian Schuster will continue to host meetings with staff and faculty over the next two weeks to discuss concerns and ideas for strengthening Webster's cost and revenue structure as the University prepares initiatives for a multi-year plan.
The meetings are the latest phase in an on-going collaborative process to address changing market forces and demographic shifts that continue to impact overall revenue. A budget steering committee and sub-committees formed in December, comprised of administrators, faculty and staff members, have continued to meet throughout 2018 to examine new revenue solutions, expenditures and efficiencies and create proposals in all three areas.
Those committees identified 117 proposed initiatives and prioritized 25 for immediate action. Implementation teams are being formed to determine how best to apply them toward the FY19 budget that was approved by the Board of Trustees on April 19.
Throughout the month of April, the University has hosted an online internal discussion forum for faculty and staff to discuss aspects of these proposed cost savings, efficiency and revenue-generating proposals and also to propose new ones.
Those discussions continued this week with in-person forums. On Tuesday at noon, the first of four meetings this week – a fifth meeting for extended campuses will be hosted online next week – was held with a variety of faculty, staff and administrators forming small groups to discuss specific topics for strengthening Webster.
As emphasized in their April 19 message to the community, a chief objective of these group discussions is to sharpen ideas for implementation teams to incorporate into the prioritized budget initiatives.
Stroble and Schuster discussed these objectives further in a video message to the entire Webster community on April 24:
On Tuesday morning, Stroble, Schuster and Chief Human Resources Officer Steven Winter participated in a staff-only forum hosted by Webster Staff Alliance (WSA), where staff in person and online submitted their questions, concerns and suggestions about these initiatives. This followed a similar forum with the Faculty Assembly last week.
At the WSA-hosted meeting, Stroble emphasized that the implementation teams are critical to achieving the budget initiatives in a way that advances Webster's vision and mission while minimizing negative impact on the community. "We need to continue the strides we have made in strategic plan areas like student retention, fundraising, specialized accreditations, and creating the facilities and services that enhance our students' success now and in the future," she said.
Schuster reiterated that preserving Webster's community while improving the overall effectiveness of operation has been the primary purpose of the work done on these initiatives so far.
"We are trying to reach these goals while preserving things that matter to the community," Schuster said. "It is important to focus on our future, not what was in the past; we all must be part of the solutions."
tags:  employee news, extended campus, faculty, president, provost, home page, webster today,
News by Topic
Tag Categories
News by Topic
Tag Categories