Basiyr Rodney Elected Chair of Department of Teacher Education
Apr. 24, 2018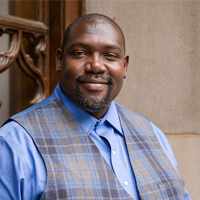 Basiyr Rodney, associate professor in Educational Technology, has been elected incoming chair for the Department of Teacher Education in the Webster University School of Education.
Rodney, a graduate of Webster's Global Leadership Academy, brings strong passion for teacher development and professional learning. Now in his eleventh year at Webster, in his role as chair Rodney will lead a department that serves both undergraduate and graduate students.
Among his goals for the Department of Teacher Education are the continued strengthening of current programs by further integrating new learning modalities such as mobile and interactive learning. He also intends to increase equity initiatives to attract more first-generation students into teaching.
According to Rodney, Webster is uniquely positioned to meet unmet learner needs by working with school districts to strengthen the pipeline to attract minority teachers into high needs areas such as special education and STEM fields.
"Our success with diverse students and our global campus network allows us to offer highly transformative learning experiences to students who wish to become teachers in under-resourced communities," he said. "It is my goal to present our teacher education programs as leading in these areas."
One of our core areas is to build more "grow your own" partnerships with school districts as well as creating price-sensitive programs to support transfer students and career changers to the teaching field, Rodney said. In that respect, he hopes to increase Webster's WebNet+ offerings in the department as well as developing more focus to online initiatives that support in-service teachers.
"Teaching is a critical and passion-driven profession," Rodney said. "We need to work to attract more diverse people into the field. We should support our teachers through strong mentoring, agile learning communities, school-based learning experiences and digital-age teaching methods. Our children need and deserve passionate, reflective and impactful teachers. These are our hallmarks here at Webster."
Rodney holds a Bachelor of Arts in History and General Studies and a master'sdegree in government with an international relations specialization from the University of the West Indies in Mona, Jamaica. He also holds a master's degree in educational technology and research, and a Doctor of Education with a specialization in Curriculum and Instruction, from Florida Atlantic University.
Rodney has taught graduate and undergraduate courses in the department and has been actively engaged in the development of the Passport assessment system. He also founded the Makerspace in the School of Education and has worked to integrate technology and design-based pedagogy
throughout the teacher education curriculum.
He has written and presented at international technology in education conferences such as Society for Information Technology and Teacher Education (SITE). He has also worked on collaborative research and design with local school districts. His most recent project is Crafting a School, a study of learning that he undertook with colleagues in the Webster Groves School District, which encompasses the community where Webster University was founded in 1915. Rodney is also active in equity in education advocacy and is a member of the boards for the Alliance for Interracial Dignity Coordinating Council, The Soulard School, Walbridge Community Education Council, and the Education Advisory at the Magic House.
Related: Learn more about Rodney in this Webster Voices profile.
tags:  academics, faculty, school of education, home page, webster today,
News by Topic
Tag Categories
News by Topic
Tag Categories