Webster Works Database Now Open for Team Leaders
Aug. 17, 2018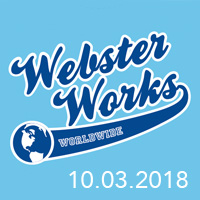 Webster Works Worldwide (WWW), our annual community service day, is just around the corner on Wednesday, Oct. 3. Since the start of WWW in 1995, over 35,000 volunteers have given more than 147,000 hours of service! We hope you will join us in this very important Webster tradition again this year.
WWW Opening Event     
A special Webster Works Worldwide opening event is planned for 8 a.m. in Grant Gym on Wednesday, Oct. 3. Mark your calendar for "A Send Off to Fuel your Mind, Body and Spirit" prior to the day's activities. We will hear some inspirational words, enjoy breakfast together and distribute WWW T-shirts.
Team Leader Registration & Information
The 2018 WWW projects have been added to the database. Team Leader registration (only) is now open.
Team Leaders are volunteers who serve as liaisons between individual volunteers and the agency in need. The Team Leader plays a critical role in communicating the details of the project and coordinating volunteers.
Responsibilities of the Team Leader include verifying the details with the agency (time, location, number of volunteers needed, expectations), contacting volunteers on their team to make sure they know all of the details, arranging for carpooling for volunteers if needed, making sure volunteers sign the roster and encouraging them to complete evaluations. Following the event, Team Leaders will report the participation of their team.
Please follow the link below to look at the projects offered this year. Once you are registered, you will show up as the Team Leader on the project page. You will receive additional information via email.
WWW Project Database
If you would also like to reserve the project for your group you may do so during your Team Leader registration in the project database. After selecting the "Reserve this project" box, you will be asked to enter your group's name. Please keep in mind the number of volunteers requested for each project. The project you choose must be compatible with the number of volunteers in your group.
Volunteers can sign up online starting on Sept. 6. For more information about the event go to the WWW website.
tags:  global, webster life, webster today, webster works worldwide, employees, students,
News by Topic
Tag Categories
News by Topic
Tag Categories