MacBook Pro (15 Inch) Battery Recall
Jun. 24, 2019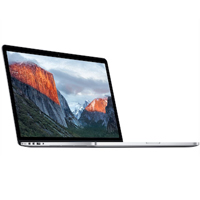 Apple has announced a recall of some older generation 15-inch MacBook Pros over safety concerns that batteries could catch fire. Affected models were sold between September 2015 and February 2017. The 13-inch models during the same period are not impacted.
Apple has set up a web site for individuals with these older generation MacBook Pros to check their serial number to determine if their device is impacted by the recall. If you are in possession of a 15-inch MacBook Pro, please visit Apple's 15-inch MacBook Pro recall site and review the information in the Eligibility section.
You will find instructions on verifying your MacBook Pro model and finding your serial number to input into the eligibility checker. 
My Device is Impacted. What Do I Do?
If your MacBook Pro is a Webster-owned device, please contact the IT Service Desk at x5995 or via email at support@webster.edu to place a work order. Please provide the serial number of your MacBook Pro, and Webster IT will make arrangements to have the battery of the device replaced.
If your MacBook Pro is a personally-owned device, please follow the instructions in the Replacement Process section of the web site linked above to make arrangements with the Apple Store or one of their authorized service providers to replace your battery.
tags:  employee news, faculty, information technology, students, webster today,
News by Topic
Tag Categories
News by Topic
Tag Categories