News Around Webster: Pollak elected chair of EIP, Corrigan wins awards, Kracen at IMSA, Christeson on community arts
Oct. 7, 2019
Recent professional news and achievements for Webster University community members includes:
Pollak Named Chair of IEP Board
Webster Vienna director Johannes Pollak has been elected chairman of the Institute for European Politics (IEP) board of directors.
Since its founding in 1959, the IEP has been a non-profit organization dedicated to the study of European integration. It is one of the leading foreign and European policy research centers in the Federal Republic of Germany and serves as a forum for exchange between academia, politics, administration and political education.
Pollak's research mainly deals with topics of European integration, theories of political representation and European energy policy. From October 2010 to May 2017, he headed the research group "European Integration" (formerly Department of Political Science) at the Institute for Advanced Studies in Vienna. In addition, Johannes Pollak repeatedly works as a reviewer for international academic journals, as an expert and reviewer for the European Commission and national research funds.
Corrigan Honored for Journalism by MPA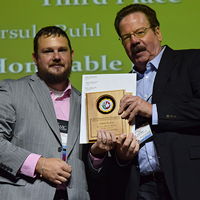 Don Corrigan, professor in the Communications and Journalism Department of the School of Communications, was recognized for his reporting at the 153rd Missouri Press Association Convention in Kansas City on Sept. 28.
Corrigan won two first-place awards and an honorable mention in the weekly newspaper category "for outstanding performance in the field of journalism" in the MPA's annual excellence in journalism competition, also known as the 2019 Missouri Press Foundation Better Newspaper Contest.
He won a first-place award in Outdoor Writing for his reporting on seniors who climb mountains in the Rockies and the Sierras with an article entitled, "Cova the Climber."
Kracen Keynote for Mental Health Week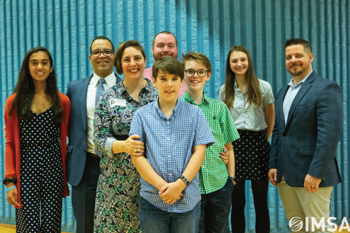 Amanda Kracen, associate professor in the Department of Psychology in Webster's College of Arts & Sciences, was the keynote speaker for the Mental Health Assembly to kick off the mental health week at the Illinois Mathematics and Science Academy (IMSA) in Aurora, Illinois.
As a teaching and learning laboratory created by the State of Illinois, IMSA enrolls academically talented Illinois students (grades 10-12), in its advanced residential academic program. Graduates are leaders in the business, education, scientific, and civic sectors.
IMSA is both a public residential Academy and a catalyst and laboratory for the advancement of STEM teaching and learning statewide.
Kracen is a 1994 graduate of IMSA, which is often ranked among the top public high schools in the United States.
Christeson Presents on Artists in Community Engagement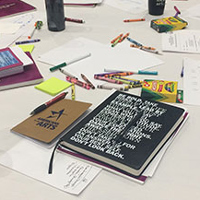 School of Communications adjunct faculty member Con Christeson, along with two of her colleagues, will be presenting the training session, "Artists at the Community Development Table," in Oakland, California later this month. Forty-two arts agencies that have applied from around the country will be in attendance. The training session is presented in conjunction with Americans for the Arts.
Locally, Christeson will manage a team of artists who will design a community engagement project for Beyond Housing, a nonprofit community development organization.
Their 24:1 initiative focuses on North St. Louis County and the 24 communities that comprise the Normandy School District. The result of Christeson's project will be a 100-foot banner to be displayed on the 24:1 Cinema in Pagedale. The goal is to design and install the completed project by fall 2020.
tags:  college of arts and sciences, employee news, vienna, psychology, communications and journalism, news around webster, faculty, school of communications, webster today,
News by Topic
Tag Categories
News by Topic
Tag Categories