Chamberlin's Music Available on SheetMusicPlus
Jul. 15, 2019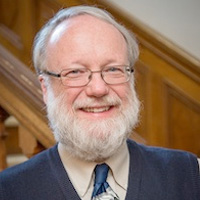 Bob Chamberlin, emeritus professor of music, has listed many of his musical works on SheetMusicPlus, an internet-based retail outlet.
"I've been enjoying this new hobby for about a month now," said Chamberlin. "My motivation to do this...I've never been much of a promoter of my own music and never actively pursued publication whole-heartedly, being content to be self-published and sell copies if someone expressed interest. When I noticed other friends/composers promoting their scores via Facebook, I thought I should give it a try."
Chamberlin retired in 2015 after more than 40 years on the Webster University faculty. During that time he served as campus director in London, in student affairs, and as director of music theory studies, in addition to teaching courses in composition and music theory.
"Bob was a much-loved and deeply respected faculty member," says Jeffrey Carter, Department of Music chair. "He guided generations of students in their music studies. We are so pleased to see him enjoying new notoriety as a composer, especially since so many of these works were written while Bob was at Webster, and often for faculty and student colleagues."
"I've posted more than 25 works available and more are in preparation," said Chamberlin. The scores now available are stylistically diverse and some have unconventional instrumentation. Some are sacred; some are secular. There are a number of organ preludes based on hymn tunes.
Prelude on the "Hymn Tune" Park Street is the earliest piece listed. "I wrote that during my sophomore year at St. Olaf College in 1969," said Chamberlin. "One organ piece is not based on a hymn tune and is one of the oldest pieces listed. It is titled 'Images of War' and was composed in 1974. There are a couple piano preludes based on hymn tunes and some other piano works that are not sacred. The most recent of those is 'Arrested Flight' for two pianos. Webster adjunct faculty pianists Donna Vince and Pat Eastman gave the premiere performance a couple years ago."
"There a number of pieces for tuba in various combinations. One of the tuba pieces is: 'Vocalise' scored for  soprano voice, tuba, and piano. I composed that in 2007 for a voice major, Angela Dinkelman.  She also played tuba and the piece was written for her to cover both parts. The recording that is included with the score online is a recording with Jim Martin on tuba, Angie on voice and me on piano."
One piece holds a very special Chamberlin's heart. "'Jan's Song' is an easy, pop-style piano piece I composed for my wife in 1974, a year before the wedding."
"Just today, I was notified that a copy of 'Chant' was sold to someone in S. Korea.  That's fun to think about the possibility of it being performed on the other side of the world."
tags:  college of fine arts, employee news, webster life, webster today, faculty, department of music,
News by Topic
Tag Categories
News by Topic
Tag Categories