Book Club: Time Travel, Alternate History Novel '1632' March 25
Mar. 4, 2019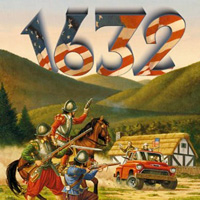 Join the Webster University Book Club on Monday, March 25, at noon in the Library Conference Room for a discussion of Eric Flint's "1632," the first novel in the alternate history book series  exploring the effect of transporting a mass of people through time.
Kim Kleinman, director of undergraduate advising and science historian, will lead a discussion of the book on March 25 at noon in the Library Conference Room. Everyone is welcome. A few copies of the book are available on reserve at the front desk of the library.  
Synopsis
The 1632 series is an alternate history book series and sub-series set in 17th-century Europe, in which the small, fictional town of Grantville, West Virginia, in the year 2000, is sent to the past in central Germany in the year 1631, during the Thirty Years' War.
It's the year 2000 in rural West Virginia.  A large group of union miners and their families have gathered in the town of Grantville to celebrate a wedding. With a flash of light, a crash of sound, and a little shaking, the townspeople suddenly find that a familiar six-mile radius of their homeland is now in the middle of Germany in the year 1632 – at the height of the Thirty Years' War.
While they can't explain what happened, the people of Grantville quickly decide they need to move forward setting up a government, preparing for the winter, dealing with warfare and refugees, prolonging their power supply, and establishing diplomatic relations with neighboring towns. And what do the people of 1632 think when they first see a pick-up truck or a parking lot? How do they react to democracy, women's rights, and modern weaponry?
The book is terribly entertaining while raising questions that we are still struggling with today.
tags:  employee news, faculty, webster life, webster today, library, book club,
News by Topic
Tag Categories
News by Topic
Tag Categories