Book Club July 8: 'Sapiens: A Brief History of Humankind'
Jun. 21, 2019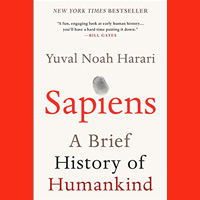 Join the Webster University Book Club on Monday, July 8, at noon in the Library Conference Room for a discussion of historian, philosopher Yuval Noah Harari bestselling book, Sapiens: A Brief History of Humankind.
A few copies of the book are available on reserve at the first floor service desk in the Library.
Michelle Loyet, Webster's associate dean for Military Campuses and Online Learning, will lead the discussion. Loyet's background is in archeology and anthropological theory, and holds a PhD in Anthropology from University of Illinois at Urbana-Champaign.
Prof. Harari said, "Homo sapiens rules the world because it is the only animal that can believe in things that exist purely in its own imagination, such as gods, states, money and human rights."
Harari posits that there have been three important revolutions that have shaped our world today:
The cognitive revolution
The agricultural revolution
The scientific revolution
tags:  employee news, webster life, webster today, library, book club,
News by Topic
Tag Categories
News by Topic
Tag Categories