Community CollabARTive Selected as a Finalist for Americans for the Arts 2019 Gard Award for Arts and Community Life
Apr. 3, 2019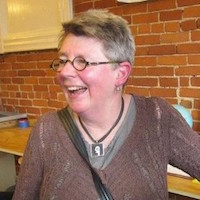 ST. LOUIS — Americans for the Arts, the nation's leading nonprofit organization for advancing the arts and arts education in America, announced that Community CollabARTive, co-founded by Webster University adjunct professor Con Christeson, is one of 10 finalists selected from across the nation for the annual Robert E. Gard Award. The award recognizes and celebrates exemplary projects from 2018 that crossed the arts into other aspects of community life in meaningful, measurable ways.
The Community CollabARTive began in 1999 with funding for nine months. Christeson, the managing artist of the organization, and Shelter Director Tom Burnham worked with the men in a transitional housing program at Peter & Paul Community Services. Thursday nights entailed cooking, eating, and making art, particularly writing, printmaking, painting, and photography. The original goal was to produce a handmade book called "How do I get home? How much does it cost?" That was the beginning of 20 years of weekly art groups with hundreds of men, more books, exhibitions, performance pieces, and countless stories. Stories that tell the greater community that homelessness is not the only chapter in any person's narrative. Stories that humanize, that shrink the distance between Us and Them to become We. The Community CollabARTive expanded to two other transitional programs and alumni return weekly to support each other and the community that was built one Thursday at a time.
Voting will be open for one month, from April 3 to May 3, 2019, and the winning project will be announced from the main stage at the 2019 Annual Convention in the Twin Cities, Minneapolis, on Saturday, June 15, 2019. Read about the 10 finalist projects by visiting http://www.americansforthearts.org/gardaward.
"These Gard award finalist projects have integrated the arts into their communities in important and innovative ways," said Robert L. Lynch, president and CEO of Americans for the Arts. "Through this work, each of these ten finalists—and thousands of other projects like them across the United States—have positively impacted the lives of residents and strengthened their communities as a whole, and their commitment is deserving of this recognition." 
"As a group, we realize a voice through art. Sometimes, we teach FOR skill development with an aesthetic that is immediate and accessible. Always, we listen to and engage WITH others," Christeson said. "Artists, residents, and staff build/re-build our stories, our relationships, our networks. These connections endure beyond a project or an exhibit to become significant resources for a healthier community. To quote one of our artists: 'Throughart, homeless individuals may rediscover movement.  Once they are moving, the path out of homelessness can become clearer.'"
The Robert E. Gard award is named in honor one of the founding fathers of the local arts movement and a champion of the arts role in the creation and maintenance of healthy, vibrant and equitable communities.  
The nine other Gard Award finalists include:
Arlington, VA
Arts in Corrections Initiative
Sacramento, CA
Nashville, TN
Fergus Falls' Year of Play
Fergus Falls, MN
Indianapolis, IN
Price Hill Creative Community Festival
Cincinnati, OH
Fayetteville, AK
Cleveland, OH
Worcester Cultural Coalition PopUP
Worcester, MA
###
Americans for the Arts is the leading nonprofit organization for advancing the arts and arts education in America. With offices in Washington, D.C. and New York City, it has a record of more than 55 years of service. Americans for the Arts is dedicated to representing and serving local communities and creating opportunities for every American to participate in and appreciate all forms of the arts. Additional information is available at www.AmericansForTheArts.org.
About Webster University: With its home campus in St. Louis, Missouri, USA, Webster University (www.webster.edu) comprises an action-oriented global network of faculty, staff, students and alumni who forge powerful bonds with each other and with their communities around the globe. Founded in 1915, Webster is a private non-profit university with students studying at campus locations in North America, Europe, Asia and Africa and in a robust learning environment online. The university is committed to ensuring high-quality learning experiences that transform students for global citizenship and individual excellence.
tags:  employee news, home page, school of communications, webster today,
News by Topic
Tag Categories
News by Topic
Tag Categories