Cottam Departing Webster for Assoc. Provost Position
Jul. 16, 2019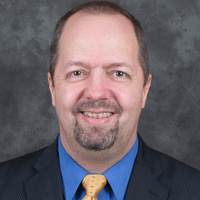 Michael Cottam, dean and associate vice president of Military Campuses and Online Education, will depart Webster University this month. He has been named associate provost, Academic and Faculty Services, at American Public University System (APUS), based in Charles Town, West Virginia.
Cottam joined Webster in July 2014 as associate vice president and director of the Online Learning Center, where he led a number of initiatives that advanced Webster's strategic goals, including increasing online offerings and implementing the WebNet+ modality.
In September 2017 he assumed the position of dean and associate vice president of military campuses and online education, working closely with the leadership of the metropolitan campuses, the deans of the schools and colleges, and the academic support units.
Transition Contacts, Farewell Reception
After his departure, questions about Webster's military program offerings should be directed to Ben Brink, director, military campus operations and program innovation; online program questions can be directed to Michelle Loyet, associate dean, military campuses and online learning.
Over the coming weeks, personnel will work with John Pyle, chief innovation officer and vice president for enrollment and Julian Schuster, provost, senior vice president, and chief operating officer, regarding approaches to structure and staff these key areas going forward.
Community members are invited to bid farewell at a reception in Loretto Hall 402 on Tuesday, July 30, 3:30-4:30 p.m.
tags:  employee news, online learning, military, webster today,
News by Topic
Tag Categories
News by Topic
Tag Categories