David Werfelmann Premieres 'On Vitreous Forms' on Sept. 7
Sep. 3, 2019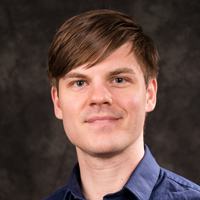 David Werfelmann, assistant professor of the Department of Music, is an award-winning American composer of instrumental, vocal, and electronic music whose works are widely performed and recorded by ensembles and soloists throughout the United States. Werfelmann's music is heard frequently at conferences, festivals, and recitals around the United States and Europe. Among the many honors Werfelmann's works have received, his orchestral work "The Mad Machine" won the BMI Student Composer Award in 2011. 
Chamber Project Saint Louis premieres David Werfelmann's "On Vitreous Forms"  on Saturday, Sept. 7 at the 560 Music Center, University City, MO.
Chamber Project Saint Louis Twelfth Session
Saturday, Sept. 7 at 7:30 p.m.
560 Music Center, University City, MO
Chamber Project Saint Louis has announced commissions from three composers for there twelfth season. Chamber Project have embraced the communicative and collaborative nature of chamber music to create interactive performances reflecting a 21st-century audience and builds partnerships with both traditional and non-traditional venues, all types of artists, institutions, and the community.
"This is work they commissioned me to write for the opening of their twelfth season. The piece is written for flute, clarinet, violin, cello, and piano and will close out the evening's program. This work is a meditation of sorts on the nature of glass. Several musical ideas melt into each other, with some of them exploring the reflective, transparent, and warped qualities one finds in vitreous objects." says Werfelmann. 
"Our faculty composers are models for the students they teach," notes Jeffrey Carter, chair of the music department in the Leigh Gerdine College of Fine Arts. "They are active and engaged, celebrating public performances and commissions. Their creativity is a model for us all."
Tickets for the concert are available at the venue. More information about the commissioning project is available at the Chamber Project Saint Louis website.
Links To Werfelmann Past Works:
Suite à l'antique for solo piano
Suite à l'antique score
Hypercolor for saxophone quartet
Hypercolor score
The Mad Machine
tags:  college of fine arts, employee news, faculty, webster life, webster today, department of music,
News by Topic
Tag Categories
News by Topic
Tag Categories