Webster University Appoints Paul Steger Dean of Leigh Gerdine College of Fine Arts
May. 23, 2019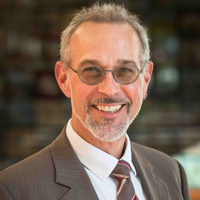 Paul Steger has been named dean of the Leigh Gerdine College of Fine Arts at Webster University, effective mid-July. Steger joins Webster University from Virginia Tech where he has served as the director of the School of Performing Arts – Music|Theatre|Cinema since 2017.
At Virginia Tech, Steger supervised all fiscal, curricular, faculty governance and personnel matters, as well as external and alumni relations, strategic planning, diversity and inclusion planning and event programming. As director, Steger also fostered interdisciplinary collaborations within the school and across the university, working with other programs on campus, including the Moss Arts Center, the Institute for Creativity, Arts and Technology, the School of Visual Arts and other units to build and seek new revenue connections. Prior to his role at Virginia Tech, Steger completed an 11-year term as the inaugural director of the Johnny Carson School of Theatre and Film at the University of Nebraska-Lincoln.
Steger has appeared across North America, Europe, and Scandinavia as a performer, director, speaker and consultant. He has been a guest artist for the National Theatre Conservatory and the North Carolina School of the Arts. Steger has conducted numerous external reviews for the National Association of Schools of Theatre (NAST) and is currently serving his second term on the NAST Board of Directors. He was elected to the National Theatre Conference in 2009 and currently serves on the NTC Board of Trustees.
"Because of the quality of Webster's academic programs and the impact of longstanding partnerships with professional arts organizations, Webster University is a leader in the arts, regionally and nationally," said Elizabeth (Beth) J. Stroble, president of Webster University. "With appreciation for a strong tradition, we look forward to the opportunities to advance our leadership as the Leigh Gerdine College welcomes Dean Paul Steger."
"The Leigh Gerdine College of Fine Arts, with strong academic programs and talented faculty who are academically and professionally qualified, is poised to strengthen and grow fine arts education through deeper interdisciplinary connections," said Julian Schuster, provost, senior vice president, and chief operating officer. "Paul's demonstrated success in working with faculty across disciplines will be instrumental as the College of Fine Arts works to expand opportunities for our students in art, music, theatre and dance to exhibit their talents and tell their stories. In addition, there are rich opportunities for academic and professional collaboration between and among the College of Fine Arts and our four other academic units (Arts & Sciences, Communications, Business & Technology, and Education) that we look forward to exploring."
"The search committee did outstanding work to bring in exceptional candidates and create opportunities for constituents across campus to engage and provide feedback," said Schuster. "It was an inclusive process, with faculty, student and alumni representation on the committee ensuring that insight from current student to committed alum was taken into account."
The committee was diverse in age, gender and ethnicity, and comprised of not only faculty from the College but also other Webster University disciplines, a student and alumnae, as well as an outside professional.
A native St. Louisan, Steger said: "I started my professional career in St. Louis and have deep connections to the art, music and theatre communities. I look forward to coming back to collaborate with everyone to define a strategic vision for the College's future that both preserves the reputation and harnesses the considerable strengths for even greater impact regionally, nationally and internationally."
Steger received his bachelor's degree from St. Louis University (1986) in Theatre Arts, a Master of Fine Arts in Theatre Directing from Western Illinois University (1988) and his Teacher of Stage Combat certification from the Society of American Fight Directors (1998-2016).
About the Leigh Gerdine College of Fine Arts
The nationally-recognized Leigh Gerdine College of Fine Arts is a key constituent of the thriving St. Louis arts community. The College houses four academic departments with more than 500 undergraduate students studying majors in the Visual Arts, Dance, Music and Theatre. The renowned Conservatory of Theatre Arts is a professional training program for acting, musical theatre, directing, theatre studies and dramaturgy, design, technical direction, and stage management with strong associations with local professional theatre companies, two of which are located on the Webster Groves campus – The Repertory Theatre of St. Louis and Opera Theatre of Saint Louis. The Leigh Gerdine College of Fine Arts Community Music School orchestras and ensembles provide opportunities to participate in multiple performance programs. These programs are structured to enhance students' skills beyond individual performance and to support the education process in school music programs.
About Webster University
With its home campus in St. Louis, Missouri, USA, Webster University (www.webster.edu) comprises an action-oriented global network of faculty, staff, students and alumni who forge powerful bonds with each other and with their communities around the globe. Founded in 1915, Webster is a private non-profit university with students studying at campus locations in North America, Europe, Asia and Africa and in a robust learning environment online. The university is committed to ensuring high-quality learning experiences that transform students for global citizenship and individual excellence.
tags:  academics, college of fine arts, employee news, global, home page, president, provost, webster today,
News by Topic
Tag Categories
News by Topic
Tag Categories