In the News: Fatton on Asia security issues, Witkowski on dyslexia, Film Series
Oct. 18, 2019
Recent news media coverage featuring Webster University community members includes:
Witkowski Discusses Dyslexia with Parents on 'St. Louis On The Air'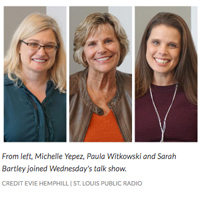 Webster University School of Education faculty member Paula Witkowski was on St. Louis Public Radio's "St. Louis on the Air" program at noon on Wednesday, Oct. 16, to discuss the many misunderstandings the public has about dyslexia and why more people should be talking about it.
Witkowski is an associate professor of literacy and speech-language pathologist in the School of Education. She was part of the 33-minute conversation with local parents Sarah Bartley and Michelle Yepez, who each have a child with dyslexia.
They discussed the importance of early intervention and how people with dyslexia can thrive. The conversation also included contributions from listeners who called in to the show to share their experiences.
This followed the "Dyslexia 101" event held on the Webster Groves campus last week, which brought parents and education professionals to learn more about resources and the importance of early identification for a student's development.
Listen to the program online here.
Fatton Discusses Asia Security Issues in Swiss, Swedish, Chinese Media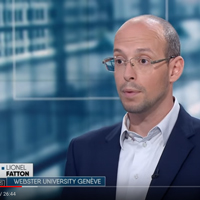 Among several recent media appearances by Lionel Fatton, the assistant professor of International Relations at Webster University Geneva discussed the evolution of Japan's foreign and security policies in the TV program Géopolitis.
The program was screened by the Swiss public channel RTS on Sept. 29, and by the French television network TV5Monde one week later.
On Oct. 5, he was interviewed by the Swedish newspaper Svenska Dagbladet on the working-level talks between the United States and North Korea in Stockholm.
In late July, he was interviewed by the Swiss newspapers 24heures and Tribune de Genève on the unstable situation in Hong Kong and its impact on Taiwan.
Also in July, he was interviewed by the Chinese newspaper Global Times on the evolution of Japan's security and foreign policies toward China and the United States.
Dr. Caligari at Webster with The Invincible Czars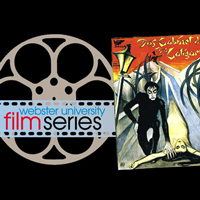 The Cabinet of Dr. Caligari, considered by some to be the first horror film and one of the most influential of all silent films will again screen at the main campus in Webster Groves as part of the Webster University Film Series, this time with live musical accompaniment from The Invincible Czars.
"With the Grandfather of all Twist-Endings, the film is the most brilliant example of that dark and twisted film movement known as German Expressionism," writes the film buff site We Are Movie Geeks.
See the profile for the Oct. 25 screening in We Are Movie Geeks.
See the Facebook event listing here and the Webster University calendar listing here. Costumes are encouraged to those who attend.
tags:  academics, college of arts and sciences, global marketing and communications, international relations, webster university film series, dyslexia, employee news, faculty, home page, in the news, school of communications, school of education, webster today,
News by Topic
Tag Categories
News by Topic
Tag Categories