In the News: Ghana and Rhiney, Gutoskey's 'Pulse' art, Webster outreach
Jun. 19, 2019
Recent news media coverage mentioning Webster University community members includes:
Gutoskey '85 Art Featured in Pulse Exhibit
Alumnus John Gutoskey (BFA '85) is one of the artists featured in a story about an art exhibit focusing on the Pulse Nightclub attack in Orlando.
Gutoskey is an artist, designer, printmaker, & collector living and working in Ann Arbor, Michigan.  John earned his BFA in theater design with a minor in sculpture from Webster University in St. Louis.  
"Early in his career, John worked as a costume designer and as a specialist in costume crafts, where he worked on productions in New York City and across the U.S. in theater, opera, dance, film, and television."
Read the story and see samples at public radio station WEMU.
Ghana, Rhiney on Women in PR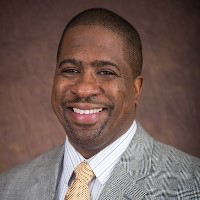 The Webster Ghana campus and Webster faculty member Eric Rhiney were mentioned for their part in an upcoming Women in PR conference.
The need for women in public relations to collaborate in the quest to attain leadership positions is part of the focus of this year's Women in PR Ghana Summit, which will take place July 6 at Tomreik Hotel, East Legon.
Over 200 professionals, mostly women in the public relations and communications sectors, are expected to attend the summit.
The summit has carved a niche as the foremost professional networking event for women in the Ghanaian PR industry.
Read about it at Business Ghana.
Webster in Reuters on Outreach to ITT Students
Webster University was mentioned in a Reuters story as one of a few institutions that reached out to ITT students to help them continue their education after the for-profit company went bankrupt.
The closure affected an estimated 35,000 students, including about 700 students at its four campuses in Missouri.
Read the story via stltoday here.
tags:  academics, alumni, college of fine arts, global, school of business and technology, webster today,
News by Topic
Tag Categories
News by Topic
Tag Categories