In the News: Balogun on Sudan; faculty at the border; Rothenbuhler, Lange on Bush train; Portnoy, Martin
Apr. 26, 2019
Recent news media coverage featuring Webster University community members includes:
Rothenbuhler, Lange on Bush Funeral Train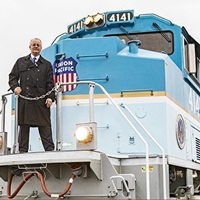 Eric Rothenbuhler, dean of the School of Communications, and alumnus Tom Lange '07 were interviewed on Fox 2 about the Bush Funeral Train.
Lange is head of communications for Union Pacific and discussed how they balanced Bush family wishes, Department of Defense guidelines and security measures, and the railroad's intrinsic employee pride to inform and inspire the ensuing worldwide media coverage.
Lange and Rothenbuhler's appearance can be seen at Fox 2 here.
Lange was on the Webster Groves campus Thursday night to discuss this topic in depth. His lecture can be seen via the recorded live stream here.
Balogun in Washington Post on African Union, Sudan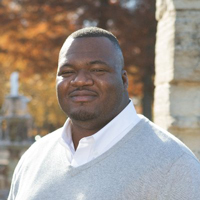 Emmanuel Balogun and colleague Anna Kapambwe Mwaba published an editorial in the Washington Post analyzing the African Union's response to Sudan's military ousted president Omar Hassan al-Bashir after nearly 30 years in power.
"The African Union, like other international bodies, responded by expressing dismay at the unconstitutional overthrow while calling for a calm and restrained transition to civilian, democratic rule."
Balogun and Mwaba argue this response is not enough.
"In theory, the African Union is committed to rejecting unconstitutional changes in government. How strong is that commitment — and practically, what can and will the African Union do when there's a military overthrow?"
Read their column at the Washington Post.
Drake, Geraghty-Rathert, Navia on Visits to Border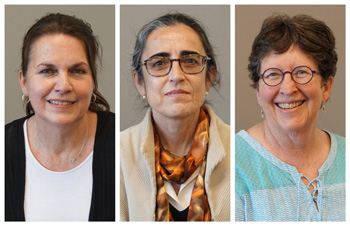 Anne Geraghty-Rathert, Mary Ann Drake and Silvia Navia were interviewed on St. Louis Public Radio about their visits to the Mexico-U.S. border region to assist immigrants and families with health and legal services.
After initial visits to scout out needs and align with assistance organizations, they have taken students on these trips and are planning future visits.
They encounter "good, family oriented people who are trying to help their family," Drake said.
"The first time I went down there it took me about two weeks to have any sense of normalcy in my head" afterward, Geraghty-Rathert said while reflecting on their visits. "I had to decompress for quite a while. It was a shocking experience to see so many vulnerable people who are so desperate, and who can't access any systems at all -- not even food unless it's given to them."
"I am an immigrant myself," Navia said, "But I'm a privileged one. It makes me realize how privileged we are. ... Coming from the literature and cultures field, I would say we should try to get to know these people and their cultures. Because when we don't know who they are, then we fear everything because everything is possible. But once you get to know them, then you realize they are human beings just like you."
Geraghty-Rathert is a professor in the Legal Studies Department. Drake is a professor in the Nursing Department. Navia is a professor in the Department of International Languages & Cultures.
Listen to their half-hour interview at St. Louis Public Radio.
Portnoy, Martin Interviewed on RAF about New CD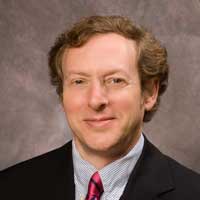 Kim Portnoy and Jim Martin were interviewed live by Jim Doyle April 23 on 107.3 RAF (Radio Arts Foundation) discussing Portnoy's latest CD, which Doyle produced, their teaching at Webster, and student success.
Portnoy is director of Composition and associate professor in the Department of Music in Webster's Leigh Gerdine College of Fine Arts. He is a jazz pianist and composer and teaches orchestration, jazz scoring and other courses.
Martin is an adjunct faculty member in the department and director of the Wind Ensemble.
A recording of the interview can now be heard on the station's website and through this direct MP3 link.
tags:  academics, college of arts and sciences, faculty, global marketing and communications, home page, department of music, college of fine arts, in the news, school of communications, webster today,
News by Topic
Tag Categories
News by Topic
Tag Categories