In the News: Katy Sullivan, Corrigan's squirrels, Nurse Anesthesia student's Ugandan connection
May. 16, 2019
Recent news media coverage featuring Webster University community members includes:
Nurse Anesthesia Student's Connection to Ugandan Nurse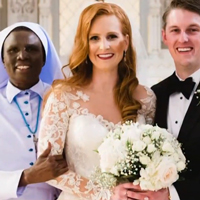 Webster Nurse Anesthesia student Hilary Mackin was featured by NBC affiliate KSDK for the remarkable story of how she helped a fellow nurse, Sister Lucy Arombo, who had helped her during a mission visit to Uganda years prior.
Mackin invited Arombo to travel to the United States for her wedding this year, then helped her get a surgery that saved her eye sight, which had been declining since they last saw one another in Uganda in 2013.
"It was like a dream come true having this woman here," Mackin said. "I never thought I would see her again."
Watch the full segment on KSDK Newschannel 5 here. 
Corrigan on the Radio in May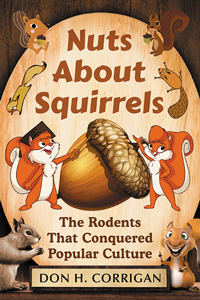 Don Corrigan will appear on the Charles Brennan Show on KMOX Radio AM 1120 at 10:30 a.m. on Wednesday, May 22. Corrigan will talk about his book "Nuts About Squirrels: The Rodents That Conquered Popular Culture."
Corrigan will make special note that hunting season on the eastern gray and fox squirrel begins in Missouri on May 25. Missourians should be reminded on that day of the legacy of the Squirrel Hunters in the Revolutionary War and the Civil War.
In his book, Corrigan reproduces the Squirrel Hunters discharge papers. They came to the aid of Cincinnati after the city was alerted that Confederate forces we about to invade the Ohio metropolis at the time of the Civil War.
On the lighter side, Corrigan will talk about the contributions of Rally Squirrel to the baseball culture of St. Louis on Kristi Carson's "Talk of the Town" radio show on Sunday morning, May 26, which airs on Hubbard Radio's five stations: 105.7 The Point (KPNT), KSHE 95 (KSHE), 106.5 The Arch (WARH), New Country 92.3 (WIL), and 101 ESPN (WXOS).
Katy Sullivan Interviews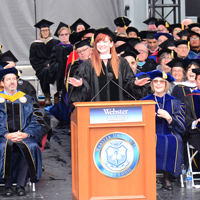 Katy Sullivan '02 was featured in St. Louis Post-Dispatch coverage of commencement speakers.
She was previously interviewed on live television by both FOX 2 news and CBS affiliate KMOV Thursday morning.
Watch those interviews online here: Fox2 | KMOV
tags:  academics, alumni, faculty, in the news, global marketing and communications, school of communications, college of arts and sciences, college of fine arts, webster today,
News by Topic
Tag Categories
News by Topic
Tag Categories