Webster in the News: NSF grant for STEM teachers; Hayes on music; Science fair
Feb. 27, 2019
Recent news media coverage featuring Webster University community members includes:
Wallner, Rodney on NSF Grant for STEM Teachers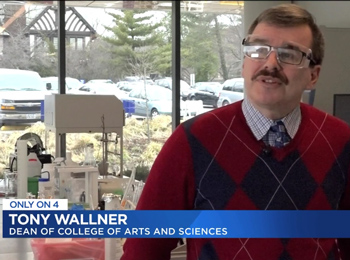 Tony Wallner, dean of the College of Arts & Sciences, and Basiyr Rodney, associate professor in the School of Education, were each interviewed in a KMOV feature on the $124,000 National Science Foundation grant for Webster to educate future science teachers in the St. Louis region.
The grant, announced this month, is designed to encourage talented science, technology, engineering and math (STEM) majors to become math and science teachers in high-need Missouri K-12 schools, addressing a critical need in the state.
The grant also will help Webster University prepare to apply for a Robert Noyce Teacher Scholarships and Stipends grant, which would allow Webster to administer scholarships to teacher candidates majoring in a STEM field.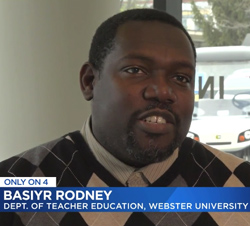 KMOV Channel 4's story connects this to the new National Geospatial-Intelligence Agency (NGA) headquarters being developed in the north St. Louis area, which will increase regional demand for STEM-educated candidates.
During their interviews, Rodney discussed the need to develop more science teachers and encourage promising students to enter teaching, while Wallner discussed the science facilities in Webster's Browning Hall, the interdisciplinary science building opened in 2017.
Watch the story here at the website of KMOV, the CBS affiliate TV station in St. Louis.
Hayes on Miles Davis, Chuck Berry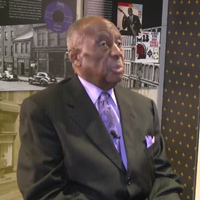 Bernie Hayes was interviewed on KSDK about the musical legacies of Miles Davis and Chuck Berry. 
The musical contributions and influence of both St. Louis-area musicians is widely revered. Yet, while their careers overlapped, they are believed never to have met.
Hayes, who is an adjunct faculty member in the School of Communications and is also serving as interim director of the National Blues Museum in St. Louis, reflected on these musicians' impact during the interview with the St. Louis NBC affiliate station.
Watch the feature at KSDK Newschannel 5.
High School Science Fair in Browning Hall on KMOV
The annual High School Science Fair, held in Browning Hall this month, was covered on the Webster Groves campus by KMOV, the St. Louis channel 4 affiliate.
As a result of the competition, two students from St. Louis area high schools are headed to the 2019 Intel International Science and Engineering Fair, which is the world's largest pre-college international science fair.
The top 10 finalists in the competition received scholarships from Academy of Science St. Louis, which co-hosted the event with Webster University.
tags:  academics, college of arts and sciences, global marketing and communications, faculty, home page, in the news, school of communications, school of education, webster today,
News by Topic
Tag Categories
News by Topic
Tag Categories