2019 Kemper Speaker on Excellence in Teaching and Learning, Faculty Workshop
Mar. 4, 2019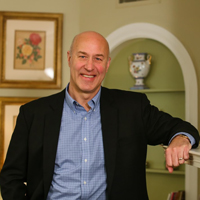 Provost Julian Schuster invites the Webster University community to the seventh annual William T. Kemper Speaker on Excellence in Teaching and Learning on March 29. The keynote presentation will be followed by a faculty workshop, "Creating Wicked Students: Designing Assignments that Improve Student Authority."

This year's Kemper Speaker is Paul Hanstedt, the director of Pedagogical Innovation and the Teaching Collaborative at Roanoke College.
Hanstedt has led the revision of a campus-wide general education program, developed an innovative writing-across-the-curriculum program, and coordinated the implementation of the college's ePortfolio system.  
Hanstedt is the recipient of several teaching awards, received a Fulbright to aid general education curricular revision in Hong Kong, and is co-recipient of a FIPSE grant for sustainable faculty development. He is the author of several books on faculty and curricular development, and will talk to us about the ideas in his most recent book Creating Wicked Students, which is about designing courses that ask students to wrestle with complex problems like the ones they will see after their time in college.
Registration
Click here to register.
Please note that advance registration is required for the workshop lunch. 
Keynote Presentation
The Architecture of Possibility and Our Construction of Students
Friday, March 29, 12:00 – 1:20 p.m.
Browning Hall Auditorium
What do we think of our students? How do we view them? How capable are they? How hardworking? How smart? How reliable? How do we convey to them, in a dozen different ways, our assumptions about them? And how do these assumptions enable or inhibit their potential? This talk seeks to explore these questions examining everything from our curricular models to the day-to-day practices we bring to the classroom. If our ultimate goal is to graduate students who are deliberate and capable in an age of change, what are the implications for our work?  
Faculty Workshop
Creating Wicked Students: Designing Assignments that Improve Student Authority
Friday, March 29, 1:30 – 3:30 p.m.
East Academic Hall 102
Lunch provided with advance registration
This workshop explores the "wicked problems" our students will face upon graduation—and what it takes to create "wicked" students capable of tackling these challenges. Participants will explore both day-to-day pedagogies and assignments that help to develop this kind of thoughtful agency in their students—all of their students, not just those at the top-tier.  Participants will leave this workshop with a renewed sense of the greater mission of education and some ideas about how to better engage students—and themselves—in that mission.  
tags:  faculty, webster life, webster today, kemper speaker, provost, home page, faculty development center,
News by Topic
Tag Categories
News by Topic
Tag Categories